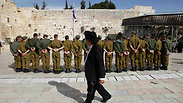 Haredi man passes by IDF soldiers at Western Wall (archives)
Photo: Reuters
Ads posted in ultra-Orthodox neighborhoods in Jerusalem are urging yeshiva students not to report to IDF recruitment centers to receive an exemption from military service.

The new IDF draft law promoted by the Yesh Atid party states that 22-year-old yeshiva students will receive an overall exemption from military service. According to estimates, this exemption will apply to nearly 30,000 yeshiva students.

Haredi Battle

Amid war on draft law, parents of students in Jerusalem's Talmud Torah schools ordered not to dress their children up as soldiers.

The procedure, which is slated to begin soon, will allow thousands of yeshiva students to join the labor market. So far, they have refrained from doing so for fear of being drafted.

But some rabbis, who are concerned that thousands of yeshiva students will abandon their studies and join the labor market, want to prevent the young men from reporting to the recruitment centers in order to receive the exemption. They have also expressed their fear that the yeshiva students will be brainwashed by the army authorities at the recruitment centers.

Ads distributed in the capital's haredi neighborhoods during the Passover holiday described the decision to grant an overall exemption as an attempt to "destroy the haredi public and change its image."

According to the writers, who are believed to be affiliated with radical haredi factions, yeshiva students arriving at the recruitment centers to receive the exemption will be forced to listen for hours to former haredim who will try to convince them to join some type of military service and integrate into the labor market.

"Their goal is clear – to destroy the kollelim (institutes for full-time, advanced study of the Talmud and rabbinic literature) and close the yeshivot (Jewish educational institutions) and to remove the separating wall," the notice stated.

Rabbi Yeshayahu Wein, one of the students of Rabbi Shmuel Auerbach, who is leading the haredi battle against the IDF draft, says the order wasn't issued by Rabbi Auerbach.

There is a serious disagreement between the rabbis and haredi activists waging the battle against the draft law on whether they should instruct yeshiva students not to report to the recruitment centers. The radical groups believe that the haredim must show the government that they have no intention of meeting the objectives set by the new law and plan to run their life without any external intervention.

Several yeshiva students who failed to report to the recruitment centers have been arrested recently, sparking fiery protests among the followers of the radical factions' rabbis.