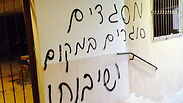 'Price tag' attack on Fureidis mosque. 'A real threat to the safety of all citizens'
Photo: Alhaj Vassim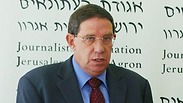 Carmi Gillon
Photo: Dan Balilty
All prime ministers in Israel have always avoided defining objectives for heads of the Shin Bet in the Jewish sector – in the radical right or in the radical left – for fear that such an intervention would be seen as using the Shin Bet for political purposes.

The only exception was late Prime Minister Menachem Begin, who after the grenade attack at a 1983 Peace Now rally which killed Emil Grunzweig, demanded that then-Shin Bet chief Avraham Shalom allocate many resources to fight Jewish terror, which he saw as an element leading to the destruction of the third Temple. And indeed, the results were soon to follow.

Price Tag

Op-ed: What began with refined 'price tag' attacks may lead up to murder of Arab personality or blowing up of mosque or church.

The head of the security service, which is in charge of maintaining Israel's security and values against subversive and terrorist activity, does not need a government decision in order to realize that the "price tag" activity is a real threat to the safety of all citizens.

Experience shows that such activity deteriorates to terrorism for all intents and purposes and could inflame the situation among Israel's Arabs and in the territories and lead to religiously-motivated attacks on Jews in Israel and around the world. As the "price tag" terror is directed against both Muslim and Christian religious institutions, this is a much more sensitive and explosive matter.

The Shin Bet is tasked with many responsibilities, and so the key question is prioritization. Because of the huge damage that "price tag" activities could inflict on the Jewish communities in Israel and worldwide, there is no escape but to allot all the intelligence and operational tools and the security service's best manpower in order to destroy this phenomenon.

Investing such an effort will lead to fundamental results within a short period of time – arrests, investigations, prosecutions, punishment and deterrence.

While the Shin Bet and police are mobilized to this task, the State Prosecutor's Office and legal system must ensure that all the legal measures, including strict punishment, will be applied in order to make it clear to the terrorists belonging to the "price tag" organization, and to the instigators and inciters behind them, that they will be fought to complete destruction and spend their prime years in prison, like any terrorist from Hamas or similar organizations.

Carmi Gillon is a former Shin Bet chief.