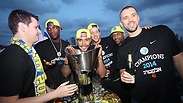 Maccabi Tel Aviv players with the trophy
Photo: Motti Kimchi
Jewish organizations in Spain have asked prosecutors to investigate some 18,000 allegedly anti-Semitic insults sent via Twitter following a weekend European basketball game.

The complaints refer to tweets sent after Israel's Maccabi Tel Aviv beat Spain's Real Madrid.

Basketball Victory

Team beat Real Madrid in nailbiting final to claim European basketball championship for sixth time.

The president of the Israel in Catalonia association, Ruben Novoa, says a complaint was filed Tuesday against five Twitter account users whose full names appeared on the messages. He said most names on the messages were believed to be false.

Novoa says that a recent study by the Anti-Defamation League indicated Spain was one of the most anti-Semitic countries in the 28-nation European Union.

The formal complaint was made by a dozen Jewish groups and support organizations in the northeastern region of Catalonia and elsewhere in Spain.

Many of the tweets posted in the hours after the final used the hashtag of "#putosjudios," which translates to "f***ingJews. Others read: "This didn't happen under Hitler" and "F***ing Israel and f***ing jews. I have always said that and I'll carry on saying it."

The incident reaffirms a recent study conducted by the Simon Wiesenthal Center, which found that Twitter is the choice platform for anti-Semitism on the Web.

Jai Anguita, president of Catalonia's Jewish community center Bet Shalom, told El Pais: "We have identified five people. The majority of the remainder of the messages were anonymous."

Barcelona's state attorney, who specializes in hate crimes, will have to decide whether it will be necessary to proceed with the investigation.

"I am a firm defender of freedom of expression, but there must be a limit. We could say that these comments come from the high spirits after a (sporting) defeat, that they are almost jokes... But history has shown us where these jokes can lead," Anguita said.

He noted that, under the current law, it would be difficult to bring the culprits to trial, still arguing that "but there are comments that are genuinely too much. Some of them talk about sending Jews to a gas chamber. We cannot allow for this to snowball; we need to stop giving the impression that incitement to hatred is permitted."

Graham Sigurdson at Shalom Life contributed to this report.