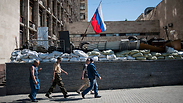 Ukraine. 'It's important children have an amazing camp experience, especially this summer'
Photo: EPA
Some 1,500 Jewish children, students and young adults are set to attend Jewish Agency summer camps next month in Ukraine. The camps will be located in Kiev, Odessa, Kharkov and Dnepropetrovsk.

Roman Polonsky, director of the Jewish Agency for Israel's Russian-Speaking Jewry Unit, says the organization is expanding its summer camp activities in Ukraine this year and will be dispatching more Israeli counselors to the camps than in previous years.

To the Rescue

Jewish Agency helps two families stranded at embattled Donetsk airport to arrive safely in Israel.

"It is important that we reach as many children and young people across the country, in order to provide them with a meaningful experience and a break from the goings-on in the country," he notes.

Some 40 senior Jewish educators from across the former Soviet Union – including 10 summer camp directors from Ukraine – arrived in Israel last week to participate in a professional seminar held by the Jewish Agency's Russian-Speaking Jewry Unit ahead of the launch of this year's summer camps.

Some 120 young Israeli emissaries who will be serving as counselors at Jewish Agency summer camps – including some 50 bound for camps in Ukraine – will also be participating in the seminar.

Sasha, who made aliyah from Kiev 24 years ago and is returning for the first time to serve as a counselor at a Jewish Agency summer camp, says that although she is nervous, she is looking forward to the experience: "I am very excited to see the city in which I was born and raised, to meet Jewish children and to connect them to their heritage and history."

The seminar will bring together summer camp directors from several different organizations in order to discuss topics pertaining to Jewish education and connections to Israel across the former Soviet Union, including the development of innovative programs and educational initiatives, the role of Israel in summer camp programming, partnerships, and so on.

"I am excited to be here with people who consider it important that the children in my city have an amazing camp experience, especially this summer – that they have a place to feel at home, despite everything happening around them," says Olga, the director of a summer camp in Odessa.

Jewish summer camps in the former Soviet Union are run by the Jewish Agency and other organizations in partnership with local Jewish communities. The camps, which are meant for children and young people between the ages of seven and 27, are 10 days in length and include experiential education activities aimed at strengthening campers' Jewish identities and deepen their connections to Israel.

The summer camps will open in June and will be held in several rotations until August. In total, some 20 summer camps will take place across the former Soviet Union, and some 6,000 Jewish children and young people are expected to participate.