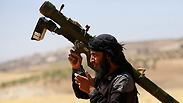 Jihad fighter in Syria
Photo: Reuters
Will American jihad in Syria lead to a future 9/11?
As many as 11,000 foreigners are fighting in Syrian civil war today; 3,000 of them come from Western countries. Intelligence officials fear training they received from terror groups will help them carry out attacks in their countries of origin upon their return.
The first suicide attack of an American in Syria has created a renewed debate on the growing presence of foreign fighters in the civil war, and the danger it poses to Western countries.

According to intelligence officials, more than 70 Americans have arrived in Syria in order to fight against Bashar Assad's regime. One of them, Moner Mohammad Abusalha, became last week the first American suicide bomber in the country.

Related stories:

There are as many as 11,000 foreign fighters in Syria today, most of them from Islamic countries. About 3,000 came from Western countries, and there is great concern that the training they received from terror organizations like ISIS and Jabhat al-Nusra will help them export terror attacks outside Syria. Until that happens, they are focusing on exporting fighters.

American commits terror attack in Syria ( )

Britain and France are the leading exporters of fighters in the West with 700 British and 400 French fighters arriving in Syria. Hundreds of others have entered Israel's neighboring country from Belgium, Holland and Scandinavian countries. Eastern European jihadists (including Albanians, Bosnians and Serbs), as well as Australians and Canadians, have entered Syria as well.

Most of these countries are boosting their efforts to prevent the departure of other fighters while arresting jihadists upon their return. Britain has already revoked the citizenship of 20 jihad fighters, and the number of Syria-related arrests is only increasing.

"There's going to be a diaspora out of Syria," FBI Director James Comey was quoted by CNN as saying. "And we are determined not to let lines be drawn from Syria today to a future 9/11."
American science teacher becomes a jihadist
American intelligence sources say that radical organizations like al-Qaeda are trying to identify, recruit and train the jihadists from the United States and Europe to carry out attacks upon their return to their countries.

In conversations conducted by text messages with the New York Times, two jihadists spoke about their decision to join the forces against Assad, about life in Syria and about the day after the Civil War.

Preparations for a joint terror attack (רויטרס)

Abu Muhajir entered Syria two years ago with a few friends and $80,000. He gave up on a job as a science teacher in a high school in North America to fight alongside al-Qaeda.

He told the New York Times that his grandparents had emigrated from Pakistan to North America, he was raised in a religious family, studied at a Muslim school on Sundays and had no non-Muslim friends growing up.

On social media he identifies himself as American, but considering his background it's probably not surprising that he chose the course of jihad. He says that West governments should indeed be concerned about the flow of jihad fighters from the West to Syria: "Attacks are occurring on the soil of Middle Eastern countries. We can only expect a response. Americans are still in Afghanistan."

In Syria, Abu Muhajir trained as a sniper and he stays with his weapon in the city of Shaykh Najjar, north of Aleppo. He usually holds the front line for three days, followed by three days of rest. In the beginning, he says, he was fearless, but that quickly changed. "To be honest I didn't used to get scared, only after I got an injury," he wrote.
'Don't bring hair curlers to Syria'
He spends most of his free time on social media. People ask him for advice on going to Syria: How to get there, how much does a gun cost, where to buy camouflage gear.

He has also received several marriage proposals, which he has declined so far. One of the women he spoke to asked whether there was electricity in Syria so she could use her hair curler. "Advice to people who want to come is – don't bring your hair curlers," he said.

The story of Abu Sumayyah, a British jihad fight who is now in Syria, is slightly different. He says that growing up in Britain, he was a "bad Muslim." He smoked, went clubbing, went on dates, took and sold drugs.

"I was only a Muslim by name," he told the New York Times in a Skype interview from Syria. "I was living like a non-Muslim; I was like a disbeliever." But by the time the civil war in Syria broke out, he was already a deeply devout Muslim. He has spent the past year fighting in Syria.

He left Britain quietly without telling his parents anything, took just a few clothes and some cash and threw away his British cellphone. He said he had no intention of bringing jihad back home. In fact, he has no intention of returning. He plans to die in Syria and hopes for a rewarding afterlife.

"I saw our brothers in Afghanistan and I realized that there is something very wrong that is happening in society," Abu Sumayyah said as he reenacted the road which led him Syria. "I saw this taking place in front of my eyes, so I had to do something about it, otherwise I would feel sinful."

According to the New York Times, Abu Sumayyah is a gunman based in Raqqa, a stronghold of jihadist organization ISIS. On his days off, he studies military tactics and trains with weapons.

"Syria changed me," he said. "In Britain and in Europe we are living in a bubble, living in dreamland, that everything is okay."
4 suicide bombers, 4 nationalities
These two are still alive, but the number of foreigners killed in Syria is constantly on the rise. The first American suicide bomber, identified by his nom de guerre Abu Huraira al-Amriki, joined the list last week. The man, a US citizen who was raised in Florida, studied in a local school there. In his pictures on social networks he is seen smiling and holding a cat.

The London-based Arabic-language al-Quds al-Arabi newspaper tried, through opposition sources, to shed some light on the attack carried out by the American at the Idlib province in northern Syria. Opposition activist Abdaa al-Anasri told the newspaper that there had been four suicide bombings executed by activists with different nationalities.

"The first attack was carried out by the American Abu Huraira, who fought with Jabhat al-Nusra. He executed the attack with a large truck containing 17 tons of explosives, and the target was an army position of (Syrian President Bashar) Assad's soldiers. Half of the building was completely destroyed.

"The second suicide bomber was Abu Turab from the Maldives. He drove a BMW vehicle which contained six tons of explosives and exploded in the army command headquarters, which were completely destroyed. The third is Yad Allah from Turkmenistan, who drove a tanker containing nine tons of explosives. The fourth was a Syrian from the region of Jabal al-Zawiya, who managed to arrive with a car bomb at the army headquarters. He managed to get out of the vehicle before the explosion."

All these attacks were carried out in the Jabal Al-Arbaee area in Idlib as part of a military operation of the al-Qaeda-affiliated Jabhat al-Nusra organization together with the Islamic Front and a faction called Suqur al-Sham. After taking over that area, their next goal is to occupy the town of Ariha in that same area in northwestern Syria. Controlling the city connecting Idlib to the coastal area will allow the rebels to complete the siege over central Idlib, one of the regime's most important strongholds.

"We prepared for the operation for two months," said Ihab Al-Khalifa, one of the military commanders of the Suqur al-Sham faction in the Islamic Front. "It began with the bombing of the barrier with a car bomb. The assailants were then supposed to bomb the rest of the posts where the Syrian army takes cover, and finally our fighters were supposed to enter those posts in order to complete the takeover."