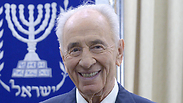 'Although Peres exceeded his authority, he gained even more prestige in the public opinion'
Photo: Marc Neiman, GPO
In late 1973, the Mapai Central Committee voted for Prof. Ephraim Katzir as the party's candidate for president. Katzir was a scientist who headed the Weizmann Institute and created the impression that a different kind of president was being elected, not a politician.

What do we remember from him? His weird statement about the Yom Kippur War: "When all the acts committed in connection with the war are clarified, I'm afraid we'll discover that they included quite a lot of failures… failures which we are all to blame for."

Presidential Election

Nobel Peace Prize laureate reveals to Nahum Barnea how Prime Minister Netanyahu pressured him to become Israel's new president and why he turned down the offer.

The Knesset members felt that everyone was to blame for electing a president who knew more about the rules of nature of the small particles than about the nature of the national politicians. Not a single citizen, apart from the state's leaders, was aware of the war taking shape and of the fact that it could have been prevented. Since then, they made sure to elect politicians who did not always say wise things, but made an effort not to talk nonsense.

Israel's presidents throughout the generations were not really a symbol. According to an encyclopedia definition, "The role of national and social symbols is similar to that of flags. They evoke identification and a feeling of belonging, commemorate and emphasize ideas and values."

Does anyone remember a president who evoked a sense of identification in them which was similar to what they feel when they see the state's flag? If a flag would open its mouth and talk, it would also find it difficult to continue being everyone's symbol.

Most of our presidents have indeed sank into the oblivion of public memory. They were usually second-rate politicians who failed to make it to the prime minister's residence in Jerusalem's Rehavia neighborhood and were compensated at the President's Residence in the adjacent neighborhood of Talbiya. A small distance in kilometers, a huge distance in positions.

Young people taking a trivia quiz will likely remember Zalman Shazar as a street rather than as Israel's third president.

Shimon Peres will be remembered not because he was a symbol as a president, but because he served as an alternative prime minister. Peres did not settle for speaking at ceremonies and pardoning prisoners. He presented a clear outlook about Israel's image as a democratic state which protects human rights, opposes the occupation of another people and supports the continuation of peace negotiations with Palestinian President Mahmoud Abbas.

And miraculously, although Peres exceeded his authority, he gained even more prestige in the public opinion. The explanation is that the public feels that the order has basically been reversed. The president performs the prime minister's role. Prime Minister Benjamin Netanyahu actually sees himself as the state's president. He delivers speeches and attends ceremonies, but excludes himself from making decisions.

In the Netanyahu era, therefore, the president should be seen as an alternative prime minister. Any political person elected will want to be Shimon Peres and express a political and ideological worldview, otherwise he will be thrown into the garbage can of history. What will his speeches deal with – the beauty of Israel's landscapes or Maccabi Tel Aviv's basketball wins?

In the current list of candidates there are several politicians. All of them – Binyamin Ben-Eliezer, Dalia Itzik and Meir Sheetrit – express the stances of a political center which characterize the majority of the Israeli public. Reuven Rivlin, who supports a Greater Israel, belongs to the extreme right, which is a minority in Israel. If he is elected, he will not maintain his right to political silence for seven years.

It will be clear to Netanyahu that any attempt on his part to advance a peace agreement will be met with public opposition from Rivlin, who will talk about the damage to the eternity of the Jewish people. If he wants the president to task him with forming the next government, he will have to conform to his stances. Peace with Rivlin is preferable to peace with the Palestinians.