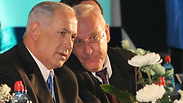 Netanyahu and Rivlin. Embarrassment for the supporter and a blow to the supported
Photo: Eli Elgarat
Amnon Abramovich
Photo: Channel 2
The State of Israel's president is like a flag, like an anthem, like a state symbol. But it's only natural that each person has his or her own preferred president.

If it were possible to select an anthem, we would likely have numerous songs or chants. I, for example, would choose poet Shaul Tchernichovsky's "I Believe," also known as "Rejoice, rejoice." If it were possible to vote for the state's symbol, I would vote for the dove with the olive branch rather that for the menorah and the seven arms decorated with olive branches.

Apolitical Contendor

Op-ed: Electing Prof. Dan Shechtman as Israel's next president will signify the victory of new politics.

But life, as we know, is not perfect, and not everything can be selected or has to be selected from a forced, closed list.

Until now, Israel's presidents have been elected by the Knesset members from a limited list, in a sane process, not free of tricks and shticks, which eventually showed respect for the elected and the electors.

This time the process was breached. Prime Minister Benjamin Netanyahu decided to do everything, including cancel the position, in order to block Reuven (Rubi) Rivlin. According to a folktale, Boris Yeltsin was so keen on getting rid of Mikhail Gorbachev and didn't know how to do it, that he decided to dissolve the entire Soviet Union.

Netanyahu, as usual, remembered to take action at the last minute. The president election procedure turned into a crazy dance.

Despite all that, I would like to write a few words in praise of the candidates. Rubi Rivlin has made a graceful contribution to the Friday newspapers' political columns. He flashes jokes and catchphrases about politicians, a lot about Bibi and Sara, and jokes about himself as well.

The problem is that in the world he may be welcomed in a much less amused way. a deep rightist, a nationalist, in an era in which Israel is being increasingly boycotted, and after Shimon Peres of all people, a man whose stock is traded on world markets at a much higher value than the value of Israel's stock.

In this election campaign, we are failing to pay attention to the international meaning of the president's image, even before one pulls out Rivlin's reckless speech at the memorial ceremony for late Prime Minister Yitzhak Rabin, in which he slammed the Oslo Accords, the two-state idea and peace in general.

Binyamin (Fouad) Ben-Eliezer immigrated to Israel by foot as a teenager from the Iraqi city of Basra, walking through the desert. A fighter, a retired brigadier-general, he served in the most senior ministries: Defense, Housing and Construction, Industry and Trade, Communications. He has been a lawmaker for 30 years now. He says he was elected a Knesset member the day MK Stav Shaffir was born.

Dalia Itzik comes from a poor Sephardic family. She has diverse experience in official positions, she served as the Knesset speaker and even as Israel's acting president for six months (during Moshe Katsav's leave of absence) and did a pretty good job. If she is elected, the lawmakers should consider deducting six month from her term.

Meir Sheetrit, like Ben-Eliezer, is a veteran MK who served as minister in many top level ministries. He is a sportive guy, who always views the competition as more important than the victory.

Dalia Dorner, a former Supreme Court judge and the current president of the Israel Press Council, is an apolitical candidate like Nobel Prize laureate Prof. Dan Shechtman. They will both receive a warm welcome in the world. Their nomination also relates to the spirit of the social protest, which seeks to rock the system if not change it.

But the hero of this play is Netanyahu, whosesudden support for Rivlin is an embarrassment for the supporter and a blow to the supported. In order to really block Rivlin, Netanyahu should have run himself. He would have been elected by a large majority.

He who looks like a president, walks like a president and does nothing like a president should be president. He could have been a glorious president and his wife could have finally gained the title of first lady, not just in practice.

What a missed opportunity, for us and for them.