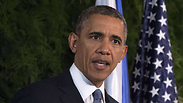 US President Barack Obama. Part of a familiar pattern
Photo: AFP
No one should be surprised the US government is "willing to work" with the new unity government announced by Palestinian Authority President Mahmoud Abbas.

Nor should we be surprised at US Secretary of State John Kerry's statement indicating that the "Palestinian government has no Hamas members."

International Pressure

Barroso says 'leadership is about making possible what is necessary, and peace is necessary in the region. Security for Israel and a state for the Palestinians are moral imperatives for the international community.'

Also unsurprisingly, Israeli Prime Minister Benjamin Netanyahu has lashed out at the American administration, saying he is "deeply troubled" by the decision to accept the new government.

The reason we shouldn't be surprised at any of this is because it's part of a familiar pattern which has been in place since the Obama administration took office in 2008.

Obama made it clear from the moment his address became 1600 Pennsylvania Avenue that US relations with the Muslim world were going to change. Indeed, his first international speech was delivered in Cairo, where he spoke eloquently about the "sweetest sound on earth," being the Islamic call to prayer in the morning.

During the so-called "Arab Spring," he tossed Egypt's President Hosni Mubarak, a 30 year ally of the US, under the bus faster than you could blink an eye. He then staunchly defended the takeover of Egypt by the Muslim Brotherhood.

After a year of attempting to take Egypt back to fundamental Islamic rule, the people rose up against Mohamed Morsi and the army removed him from office. He has been incarcerated on a number of charges ever since. Ironically, when the same "voices of the people" that Obama championed against Mubarak lashed out against Morsi and the Muslim Brotherhood, Obama voiced concern about the "democratic process" not being followed.

I am not suggesting Mubarak exemplified the best type of leadership. However, he maintained steady relations with Israel and was a stabilizing force in the region.

Since Morsi was ousted, Egypt has questioned the commitment of the US. Consequently they turned to Russia for a huge arms deal. Egyptian-US relations remain uneasy as a result of Obama.
On wrong side of every important issue
How about US-Saudi relations? When Obama made it clear he was prepared to negotiate with Iran regarding their rogue nuclear program, this raised eyebrows in the region, most notably in Riyadh. The Saudi royal family and the ruling Shiite ayatollahs of Iran have long disliked each other. With Obama willing to soften sanctions against Iran, this sent a message to the Saudi's that the US was on a new course. They openly began to question Obama's commitment.
Consequently, the Saudis and Israel entered into a new era of covert understandings, since they share a mutual enemy – Iran.
Next, the Syrian crisis. On a humanitarian level it's staggering. Over 160,000 lives have been lost. However, it's important to understand who the players are. Those trying to overthrow President Assad are a collection of Islamists, who if they gained power would take Syria back to fundamental Islam, under Sharia Law. Many of them are either al-Qaeda members, linked to them or get support from them.
By this I am not suggesting the just re-elected Assad is a good guy. However, this scenario is clearly the lesser of two evils. With respect to regional stability as well as relations with Israel, Assad is the better bet. However, once again as was the case in Egypt, Obama is backing the Islamists.
These are merely three examples of Obama's pro-Islamist policies in the Middle East.
With respect to Israel, it's been clear since day one his "unshakable commitment to Israeli's security" has been anything but. For example, at one point he threatened to expose a 40-plus year confidential understanding the US had with Israel regarding official acknowledgment of its nuclear capability. He also interrupted what had been routine travel for Israeli scientists between Israel and the US.
He once went so far as to blackmail Israel by suggesting his effort to curb Iran's nuclear program would depend on how flexible Israel was with the Palestinians.
On a personal level, it's clear there is no love lost between him and PM Netanyahu. Remember when he shuffled Netanyahu through a White House side door and left him alone for dinner, after he had just warmly welcomed Mahmoud Abbas with full press and diplomatic protocol?
Let's not forget how he sabotaged Netanyahu when he was en route to Washington in 2011 by making a speech to Congress demanding Israel return to the '67 lines. Congress was so incensed with him that when Netanyahu spoke to a joint session just days afterward, they gave him 30 standing ovations, and leadership of both parties publically disagreed with Obama's '67 border speech.
Why am I bringing all these issues up? To remind us why no one should be surprised that the US is willing to work with the Palestinian unity government.
Keep in mind they are desperately trying to keep the "peace process" alive. They believe their decision prevents it from total collapse. Obama also knows the coalition Netanyahu has is not as strong as it once was. He may hope those who oppose him will mount an effort to force Netanyahu to accept the Hamas-backed unity government. Indeed, MK Meir Cohen of the Yesh Atid party has stated that if peace talks are not renewed, "we will not be in the government."
As for the make-up of the unity government, while it may be correct to say "it has no Hamas members," one doesn't have to belong to Hamas to agree with its views. The fact that thus far they aren't objecting to the government is quite telling. Time will tell if this arrangement survives.
With respect to Obama's track record in the Middle East, he has shown himself to be on the wrong side of virtually every important issue. As of the moment, and on this issue, the status quo remains unchanged.
Dan Calic is a writer, history student and speaker. See additional articles on his Facebook page .