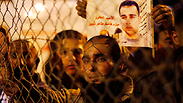 Prisoner release. 'Main motive for further abduction attacks' (archives)
Photo: Reuters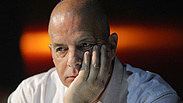 In recent days, different experts have called for the use of force against Palestinian President Mahmoud Abbas in particular and against the Palestinians in general, believing that the problems will solve themselves that way. I don't accept these calls.

We must find the kidnapped teens, and we must unite in a sense that we share the same fate and in our concern for the missing boys and in the efforts to locate them and return them to their families.

Prisoner Release

Analysis: Future Israeli prime ministers will still find a way to make decisions related to the release of kidnapped soldiers – with or without a law.

But there is no point in statements calling for "more force," as if we are not using enough force as it is. A person like me, who has been there for so many years, can attest to that.

We had better think about halting the release of terrorists in exchange for kidnapped soldiers, or about halting the release of terrorists instead of freezing construction in the settlements during the negotiations with the Palestinians. These releases are the main motive for further abduction attacks.

Forty-four kidnapping attempts thwarted in the past two years speak for themselves. So enough with the cheap populism of "let's use more force and the problem will be solved." This is the main problem in the current situation, and there is something here that the government and lawmakers must do.

We are all united in our concern for the three teens. At this time we must put all differences aside, unite and support the worried families, the IDF's fighters and their commanders, the members of the General Security Service, Israel's police and members of the security forces, who are working tirelessly round the clock in order to locate the boys and bring them back to their homes and families safely.

You are all our children, our sons and daughters. My heart goes out to you, and I am certain that all the people in Israel support and embrace all of you.

Yuval Diskin is a former Shin Bet chief.