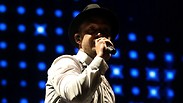 Justin Timberlake. We came to enjoy ourselves, and so did he
Photo: Yaron Brener
Oh, don't we Israelis just love to be blown away by live gestures on stage from the huge international stars who visit our country year after year.

We roared so much on Wednesday night when Justin Timberlake got on the stage at Tel Aviv's Yarkon Park and shouted, in Hebrew, "Yalla balagan," "I love you all" and "Shalom Tel Aviv."

We often view these shouts, in the reviews too, as the highlight of the show. But Timberlake cannot be summed up by a few inarticulate sentences in Hebrew. He brought much more than that to the park.

Cry Him a River

Pop sensation says Jerusalem visit will never be forgotten.

Unlike another equally big star who came here a short while ago and disappointed us big time – I'm talking about Rihanna, of course – Justin Timberlake did come to work.

In the very first songs, despite a slightly drowsy opening, one could see the homogeneity characterizing him and everything else taking place on stage: He adjusts himself perfectly to the successful big-band orchestra backing him, and sings in perfect harmony with the excellent backing vocalists which rock the audience together with him.

And we must not forget that Justin Timberlake is a great dancer. Because of that, he integrates perfectly with the three male dancers and three female dancers, who appear to have worked on each step for months, and should have arrived with a sign reading: "Don't try this at home, you'll break your head."

Back to the music: Some of the songs from Timberlake's' regular set list in this concert tour were not performed at Yarkon Park, but he did not spare the Israeli audience from his greatest hits. "Like I Love You," "Señorita," "Cry Me a River" and, of course, "SexyBack" and "Mirrors," which concluded the show, lifted the unending swarm of fans up in the air. Even the less familiar songs were exciting, thanks to the excellent performance.

And I must commend Justin's spine-tingling, accurate performance of Michael Jackson's "Human Nature." There is a reason why this prince is seen by some as the successor of the King of Pop.
We do!
Let's go back to Timberlake's gestures for a minute. Despite being a calculated and well-organized show, accompanied by great videos which add a lot to the performance, it's not a mechanical show like one could argue about Madonna, Lady Gaga or Britney Spears' concerts.

It has some spontaneity as well, which we witnessed in the first part of the show when a guy standing at the first row held a sign with a marriage proposal he had promised his girlfriend only if Justin posed for a picture with the two of them.

Timberlake immediately got off the stage, provided the required selfie, and went back up. It doesn't matter that those two were actually a married couple which staged the entire scene. The roars and satisfaction and excitement among the audience proved that it was a real source of enjoyment for tens of thousands of people, and even for a singer who came to enjoy his big night in front of the Tel Aviv audience.

And that was perhaps the main story of the night. Justin Timberlake, probably the biggest lover in world pop, did not only come to work for us. He came to enjoy himself as well. And that was evident without any particular effort: Armed with a hat which only left his head when he bowed to the audience, he sang, danced, jumped and mainly laughed and smiled with the audience which fell in love with him – and it appeared to be mutual.

What else can I add? Let's hope that each of the shows arriving in Israel this summer will be as successful as Justin Timberlake's.