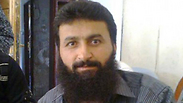 The High Court on Tuesday has authorized the IDF to demolish the home of Ziad Awad, the Palestinian terrorist who killed Chief Superintendent Baruch Mizrahi on Passover eve, rejecting Awad's petition.

Meanwhile, the mother of Eden Atias, the 18-year-old soldier stabbed to death in Afula by a 16-year-old Palestinian from Jenin, pleaded with the military court trying her son's killer to hand down a severe sentence.

The court hearings took place only a day after the lifeless bodies of three Israeli teens presumed kidnapped since June 12 were found in the West Bank. Hours after their bodies were found, security forces partially demolished the home of Amar Abu-Eisha, one of the two main suspects in the boys' kidnap and murder.

Related stories:

Regarding the Passover killer's house, Judge Miriam Naor rejected the terrorist's petition and tied the events to the rise in the number of terror attacks in the West Bank and the discovery of the missing boys' bodies. She explained that though the IDF has stopped demolishing houses in recent years, the law still permits it, especially in light of recent developments.

A 2005 military committee failed to find proof that destruction of terrorists' homes serves to deter future terror attacks. In wake of the findings and criticism by human rights groups, who balked at what they described as collective punishment, the Defense Ministry decided in 2005 that the demolition of homes of suicide bombers would stop unless there was "an extreme change in circumstances". Thus explaining the judge's reference to the current rise in terror related events.

Representing the victim, Hadas, wife of Baruch Mizrahi, urged the court not to focus on the suffering of the terrorist but on that of the victims. "We are the victims, we were innocent, driving in our car until we were caught in an ambush and shot at.

"The terrorist just laughed at us and kept shooting. He saw Baruch had fallen so he took aim at our children's heads," she said.

Awad's lawyer tried to counter the claim, and said that "the terrorists' children are not complicit in this act and should not suffer. His brother and his wife and kids' home could also be damaged in the attack," Lawyer Sigi Ben Yair claimed.

On the other hand, representatives of the State claimed that Awad's wife knew of her husband's intentions, and they also reminded that Awad's son Izz ad-Ain was involved the attack, "this is no innocent family," State lawyer Aner Helman told the judge.
Harsh sentence
Only two weeks after enlisting, Eden Atias was stabbed to death by a Palestinian teen who boarded the bus Atias was traveling on in Afula. Now the IDF Military Court in Salem must decide the minor's fate, with the State and victims demanding a life sentence while his lawyers ask for a reduced sentence because of his age.

The killer was convicted a month ago, and at Ynet's request the details of his sentencing hearings are being made public.

"I beg you from the bottom of my heart and soul, do not give my son's killer a reduced or light sentence. The terrorist standing before you today is more than aware of what he did and expresses no remorse, he is a monster who wants to sew evil," she said.

"I ask he will not see or feel freedom, just like my Eden cannot participate in life and take part of our now destroyed family.

The State's representative echoed the claims, saying that "already in 2012, he dreamt of killing."