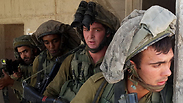 'IDF soldiers represent a significant truth: We Jews really are alone in the world'
Photo: Roee Idan
Although I am a grown man, watching groups of Israeli soldiers marching to pray at the Western Wall, singing, "We are believers the children of believers and we have no one to rely on other than our Father in Heaven," brought me to tears.

Why I am so moved, I asked myself. The answer immediately became clear. We Jews have spent the last 2,000 years being oppressed, pursued, tortured and murdered simply because we are Jews. The last 100 years have been considerably brutal for us Jews. Now once again we are being hit in an unprecedented way.

Soldier's Story

Mordechai Yamin sustained shrapnel injuries in a mortar attack from Gaza last week; in stable condition but faces difficult rehabilitation.

Rockets are being fired at five million Jews. That there are so few casualties is not because our sworn enemies don't want to kill us. Make no mistake, they want to murder every single one of us. It is only because we know how badly they want to kill us that we prepared for that terrible eventuality with bomb shelters and an unparalleled Iron Dome missile defense system.

Yet again, we have no choice. We Jews must risk the lives of our young men and women to defend the nation against an enemy so brutal and lacking in morals that it does not even respect the life of its own people.

These brave young soldiers have behind them one of the most technologically sophisticated military capabilities, an air force that is the best in the world and all the tools of battle they will ever need. Yet as they prepare for war, the song they choose to sing declares, "We have no one to rely on other than our Father in Heaven."

This is the Jewish way. This is what the Torah teaches us. In fact, one may argue that the entire point of Judaism is to inculcate this very idea within us as human beings. Without God we have nothing. All of our own power is worthless without blessings from on High.

Seventy years ago, when Jews were marched like sheep to slaughter by the Nazis, they sang the words, "We believe with complete faith." They did that because despite it all, we are believers the children of believers. In the face of the terrible tragedies that were befalling them, they felt a closeness to and a reliance on God.

Today in modern-day Israel, where we have the power to defend ourselves, nothing has really changed within the Jewish spirit. Am Yisrael Chai.

We as Jews understand that it is never "my strength and the might of my hand" (Deuteronomy, 8:17) that achieves anything. Rather, it is always the hand of God that "gives us the power to produce greatness" (Deuteronomy, 8:18). God in the Torah tells us that the ability to see the hand of God in our own success and to be able to rely on Him is the secret to being able to maintain Jewish power over the Land of Israel (ibid).

So seeing our brave young soldiers singing these words before they enter into battle moves me deeply. It moves me because it carries on a tradition of thousands of years of Jewish spirit and belief. It moves me because it represents a significant truth: We Jews really are alone in the world. We only have one thing to truly rely on and that is our Father in Heaven.

May God be with the Israel Defense Forces. May He protect their coming and going so that they all come back to their families in safety and health after completing their mission successfully.

Levi Brackman is founder of Purposes Inc and creator of a scientifically proven online purpose finding tool Next Stage Purpose . He is currently doing a PhD focused on learning how people can develop purpose and meaning in life. He is also a rabbi and bestselling author.