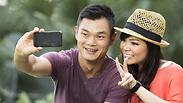 Tourists stay away from Israel as fighting in Gaza goes on
Photo: Shutterstock
Israel's incoming tourism and hotel industry is expected to lose some $500 million in income in the third quarter of 2014 (July to September) due to the Israeli operation in Gaza, figures presented by the Israel Hotel Association (IHA) show.

According to the IHA's estimate, the losses will affect hotels and all service providers in the tourism, catering and transportation industries.

Travel Industry

South Korea's flag carrier is first foreign airline to halts its activity in Israel due to security situation.

In addition, hotels are expected to lose another NIS 85 million (about $25 million0 in the third quarter as a result of the drop in domestic tourism.

Before the fighting in Gaza began, some 803,000 tourists were expected to visit Israel in the third quarter of the year – a 15% increase from the same period last year. The updated estimate points to a 34% drop in the number of tourists, meaning that Israel is expected to lose some 280,000 tourists, reflecting losses of about $500 million in income.

The hotels' quarterly forecast was for 2.4 million tourist stays, a 10% increase from 2013. The drop in overnight hotel stays following the military operation reflects a loss of some $100 million in proceeds.

In domestic tourism, the forecast for July was of 1.5 million overnight stays by Israelis. Now the estimate points to 225,000 stays and a $85 million drop in proceeds.

Additional damage estimated at tens of millions of dollars is expected to affect airlines, tourist wholesalers and travel agencies due to a wave of cancellations of Israelis' vacations in many destinations, mainly Turkey. The damage to outgoing tourism is already estimated at some $100 million, and travel agencies have begun reducing their working hours.

Meanwhile, workers' committees have decided to renew their boycott on vacations in Turkey and even expand it to additional areas of commerce.

Yaakov Alush, CEO of Vaadim, firm coordinating information about economic activity among workers' committees in Israel, says that tens of thousands of Israeli were expected to fly to the Turkish resort of Antalya until the end of the Jewish High Holidays as a result of a 50% increase in Israeli tourism to Turkey after the committees decided to lift their boycott recently.

On Sunday, travel agencies were flooded with requests from customers seeking to cancel their vacations in Turkey and find alternative destinations like Greece. Thousands of reservations have reportedly been canceled so far.

According to David Mahlev, CEO of the Arkia International airline, "The cancellations are for July and August, and I am not optimistic in regards to new bookings for Turkey in the coming season."