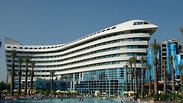 The Concordere resort in Antalya. 'At these prices one doesn't think twice'
Photo: Danny Sadeh
Thousands of Israelis are heading to the Turkish resort city of Antalya for the Passover holiday, after years of avoiding Turkey's "all-inclusive" clubs due to the country's strained diplomatic relations with Israel.

The reason is mainly economical. "At these prices, one doesn't think twice," one of the Israeli tourists explains.

Back to Antalya

Despite ongoing workers' committees boycott, some 165,000 Israelis fly to Istanbul and Antalya in 2013 – a 96% increase from 2012.

According to Israel Airports Authority figures, some 24,000 Israelis will fly to Antalya this holiday, an increase of more than 150% in the number of passengers from last year and a 139% increase in the number of flights. Fifteen flights will leave for Antalya on Sunday and Tuesday, and additional flights will be added on Thursday.

Yaniv Bahat, who is traveling to the Turkish resort city with his wife and children and two other families, says he chose that destination simply because of the price. "We didn't know where we should spend Passover. We wanted to go on vacation with the children in which we could rest rather than hike. My brother was in Turkey several months ago as part of his job and recommended that we go there. The price is the deciding factor here. In Turkey you get great value for money."

Asked whether he is aware of the travel advisory which mentions Turkey as one of the countries with a potential threat for Israelis, he replies: "Security issues are always deterring, but at the end of the day the price is what counts. We will land in Antalya, travel straight to the hotel and spend a week there until we return to Israel. We have no intention of leaving the hotel to go hiking.

"I'm not in favor of boycotts anywhere. I have a vacation package here with a price no one can compete with. Apart from that, I know the Turks are yearning for tourists from Israel."

Travel agents say Israelis have been showing a renewed interest in Turkey for quite a long time now. Even workers' committees, which have so far avoided the Turkish resorts, have been unable to resist the attractive prices and have begun making reservations.

For example, an all-inclusive four-day vacation package for a couple and two children at the Crystal De Luxe Resort in Kemer was offered for $2,214 for the entire family. The same package for the Majesty Mirage Park Resort was offered for $2,125.