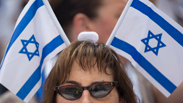 Pro-Israel rally (archives)
Photo: Reuters
Top current and past leadership of UJA-Federation of New York is travelling to Israel on Sunday in an expression of solidarity and support for Israel amid Operation Protective Edge.

The mission is headed to Israel despite ongoing international air travel warnings and includes UJA-Federation CEO Eric S. Goldstein, former President Jerry W. Levin, Chair of the Board Linda Mirels, General Chair of the 2015 Campaign Jeffrey M. Stern and board member Susan K. Stern, along with nearly 15 others.

The group will be in both Tel Aviv and cities in the hardest hit areas in the south, where they will visit trauma centers, hospitals, bomb shelters and receive briefings from key national security advisors and from UJA-Federation network agencies, the American Jewish Joint Distribution Committee (JDC), Israel Trauma Coalition (ITC), and Jewish Agency for Israel (JAFI).

UJA-Federation has to date committed $2.1 million in emergency aid for Israel.