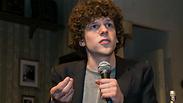 Jesse Eisenberg in Israel
Photo: Ofer Amram
These days with the conflict between Israel and the Gaza Strip, most artists and celebrities are either postponing or cancelling their trips to Israel. Jesse Eisenberg, however, stuck to his resolve and decided to visit Israel anyway.

Freshly casted as Lex Luthor in "Batman vs. Superman: Dawn of Justice," Eisenberg made an appearance Thursday at the Beit Lessin Theater in Tel Aviv, where a Hebrew adaptation of "The Revisionist" premiered.

Show of Support

American television personality slams actress and pop star Selena Gomez for her #PrayForGaza tweet, says 'if New Jersey were firing rockets into New York, we would wipe them out.'

Having starred alongside Vanessa Redgrave in the original US version, Eisenberg was invited to speak during a Q&A session held at the end of the theater production.

The actor chose this moment to tell Israel's residents how pleased he was to visit the country and that he had no reservations whatsoever about visiting.

"If there was any sign that I would be endangered somehow, I would have hesitated to come, but that wasn't the case. Israel is a wonderful country, and it is an unfortunate time, of course, for people living here, but for me this has been a very good week," Eisenberg told the audience.

While this past week might not have been the most ideal time to make his very first visit to Israel, Eisenberg made the most of it. The "Social Network" Oscar nominee ended up visiting Jerusalem, as well as the northern cities of Acre and Haifa.

He even hopes to visit the war-ridden southern area of Israel during his next visit.

"Batman vs. Superman: Dawn of Justice," starring Eisenberg as Lex Luthor, Ben Affleck as Batman, and Henry Cavill as Superman, is scheduled to hit movie theaters in May 2016.

Reprinted with permission from Shalom Life .