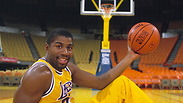 Magic Johnson. Visit cancelled
Photo: Gettyimages
Magic Johnson and other past and present NBA stars, who were slated to attend the inauguration ceremony of Jerusalem's new multi-purpose sports arena in September, have called off their visit to Israel.

The Jerusalem Municipality and the event's production company, Ariel, were surprised to receive a phone call from the stars' representatives on Sunday, informing them that they were cancelling their participation in the festive event.

No Fear

Despite ongoing rocket fire, 'Social Network' star says he had no reservations about visiting 'this wonderful country.'

Ariel and the municipality have been working on the Jerusalem Arena inauguration ceremony, which will take place on September 4, for several months now.

Jerusalem Mayor Nir Barkat had invested many efforts to complete the construction and increase the number of seats in the arena after many delays over the years.

The municipality had planned a major opening, which would create a media buzz around the new sports complex. The highlight of the event was supposed to be a festive exhibition game between 10 retired and present NBA players and the Hapoel Jerusalem basketball club.

The guest of honor would have been Earvin "Magic" Johnson, Jr., one of the greatest basketball players of all times.

The Ariel company had also planned to bring a leading international musician to the ceremony. Talks held with Beyoncé and Kanye West have been unsuccessful so far.

Ariel CEO Zion Turgeman confirmed that the NBA players had canceled their visit to Jerusalem. "This is a serious blow to the arena's inauguration. We have been working on the opening event for a long time, and now we will have to readjust."

Turgeman added there was no plan to postpone the inauguration event. "We intend to invite 5,000 soldiers to the opening in order to thank the IDF for its contribution to the state," he said.