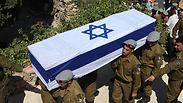 'All we can do is say thank you'
Photo: Gil Yohanan
I am one of the eight million citizens of the State of Israel, only one, seeking to express my gratitude. But there are many others like me, and if you add all of us, you'll get eight million thank yous.

Operation Protective Edge has come to an end. The official price we paid is 64 fallen soldiers and 584 wounded. The unofficial price is 128 parents whose life froze together with their dead sons.

Protective Edge

Analysis: Despite its huge military advantage, advanced intelligence and remarkable protection means, it may be difficult for the IDF to subdue several thousand terror fighters.

Wives and children who discovered one day that their complete family is gone forever. Like a hole that no needle and thread can sow without leaving a scar which will forever testify that something has been torn. Women who were in the midst of preparations to marry their fiancés, who didn't return. Women who will have to start a family with a different man and have children with a different man.

Families are still mourning their sons, and suddenly I see reality shows are back on TV as if nothing has happened. Our routine life is here. The route has been recalculated. People are not afraid anymore and are picking up the phone to book a vacation for next week.

Sixty-four soldiers will never go on vacation. They have ceased to be. All that is left is the respect I and other people have for them. Respect is important. If I could salute them, I would. There is nothing like a salute – one small gesture conveying an entire message. Citizens have no salute. All we can do is say thank you.

Wait a minute before going back to your routine life. Just a bit. They defended me. They defended my baby. They are allowing us to go on vacation in our country without hearing a siren, without being afraid that a group of people will emerge from under the dining hall in our hotel, people who have decided that hell is preferable to heaven.

Is there anything worth dying and ceasing to live for? Many will say there isn't. Sixty-four soldiers had a different opinion. They understood that they were entering a Russian roulette and that the next bullet could be the one which would knock them down. And they did it. Why? Because they thought that dying for their country was still a risk they were willing to take.

I am sure that they were afraid, but they went in. They may have thought that you can't sanctify life all the time, while the opposite side sanctifies your own death.

And there are also hundreds of soldiers who have been wounded and whose body will never be the same. New people with a defect. From now on, they will be called disabled people. A degrading word for the most perfect people in the world.

It's a shame that only soldiers can salute. If we could salute too, you would see all of us stretch and give you the salute of a lifetime.