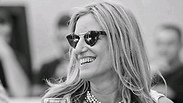 Police confirmed Friday morning, the identity of a woman found murdered in a south Tel Aviv apartment on Thursday as 49-year-old Dafna Bar Zion, a prominent rock singer and restaurant owner in central Israel.

Her restaurant entrepreneurship began 20 year ago when she opened 'Susana' in the Neve Tzedek neighborhood, a spot that quickly became one of Tel Aviv's most popular restaurant establishments. In 2011 she expanded by purchasing another restaurant called 'Regina' located in the old Jaffa Railway Station. She was also a partner in 'Avtalion' in Jaffa.

The police investigation into Bar Zion's death is ongoing, and police said that they were still searching for her ex-boyfriend, a musician who Bar Zion reported to the police three months ago, and who resides in the apartment where her body was found

Related stories:

The funeral for the Tel Aviv entrepreneur who was survived by a daughter Neta (25) was held Friday afternoon at 2pm. Bar Zion's body was found Thursday night inside her ex-boyfriend's apartment along with signs of a violent struggle.

Family members had reported her missing Thursday afternoon, saying that she wasn't answering her telephone. In the evening hours, her family arrived at the apartment in which she had once lived with her boyfriend and discovered her body after breaking through the door.

One of the neighbors in the building said she did not know the woman, but had also never heard anything out of the ordinary from that apartment. "It was quiet today, I heard that her family members were looking for her, and then they broke into the apartment, and it seems that they found her lifeless."