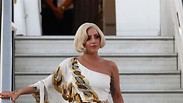 Gaga in Israel
Photo: Eliran Avital
Lady Gaga landed in Israel early Friday evening, ahead of her Saturday evening show in Tel Aviv as part of the Middle East leg of her ArtRave tour.
Gaga in Israel
Gaga landed in her private jet after performing in Dubai and a short pit stop in Jordan.
After landing, Gaga traveled directly to her presidential suite at the Ritz Carlton Herzliya, where she will spend the next three days. There she was met by scores of screaming fans who swarmed the pop star and forced her to run directly into the hotel surrounded by her bodyguards.
Gaga last performed in Israel five years ago, when her stardom was still in its relatively early stages, but now she arrives a full fledged superstar with an entourage of over reportedly 140 people. She is expected to switch no less than 14 outfits throughout her show.
Soon after landing, Gaga tweeted:
Gaga's visit has already sparked controversy when posters prompting the concert were covered up in Jerusalem after ultra-Orthodox residents complained they were "immodest."