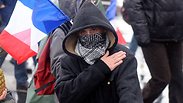 'Growing unease oppresses Jews in France each day and overshadows their future'
Photo: AFP
Anti-Semitic attacks nearly doubled in France in the first seven months of the year, the country's main Jewish group says.

On Sunday, Paris police arrested a convicted anti-Semite and radical black power activist after he arrived in France to promote a new book, a police source told AFP.

German Support

Rally against anti-Semitism in central Berlin draws thousands. 'It's our national and civic duty to fight anti-Semitism,' says German chancellor.

A total of 529 anti-Semitic actions or threats were registered up to the end of July, against 276 for the same period last year, the Council of Jewish Institutions in France (CRIF) said, citing figures gleaned from the interior ministry.

They included violence against individuals, arson and vandalism.

Such anti-Semitic acts "exacerbate the growing unease that oppresses Jews in France each day and overshadows their future", CRIF said in a statement.

Yet more worrying, the group added, is the appearance of new forms of violence against Jews – including attacks by organized gangs and the targeting of synagogues, as well as acts of vandalism against Jewish businesses and "terrorist attacks."

Last week, the French office of the Jewish Agency for Israel said that more Jews have left France for Israel so far this year than from any other country, blaming a "climate of anti-Semitism."

France houses some 500,000-600,000 Jews, the third largest Jewish population in the world, after Israel and the United States.

In addition to the largest Jewish Diaspora in Europe, France is also home to the continent's biggest Muslim community, which is estimated at around five million.

Concerns have been raised by violent attacks on Jews, including the murders of a rabbi and three Jewish children by an Al-Qaeda inspired gunman Mohammed Merah in 2012 in the southern city of Toulouse.

Support has also been rising for far-right parties like France's National Front, which has long faced accusations of anti-Semitism.

Tensions over the recent Gaza conflict spilled out into the streets of France in July with looters destroying Jewish businesses and shouting anti-Israel obscenities in the Paris suburb of Sarcelles – sometimes known as "Little Jerusalem" for its large community of Sephardic Jews.

Kemi Seba, head of the French branch of the New Black Panther Party, was detained Saturday after a public appearance at the Main d'Or theatre in the French capital.

A magistrate then ordered his incarceration on Sunday because Kemi Seba, whose real name is Stellio Capo Chichi, was wanted for having violated the terms of a 2009 suspended sentence for violence.

He has been living in Senegal and had told followers he would tour France to promote his recent book. The theatre where he had appeared is used by the controversial comedian known as Dieudonne, who has been repeatedly convicted of anti-Semitism.

Kemi Seba is no stranger to brushes with the law.

Two groups that he founded – Tribu K and later Jeunesse Kemi Saba – were dissolved by the French justice ministry for inciting "racist and anti-Semitic" ideology.

In October 2012 he was expelled from Switzerland for fear he would incite violence.