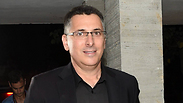 Gideon Sa'ar. In the Israeli political system, one can only advance from the outside
Photo: Yuval Chen
Interior Minister Gideon Sa'ar promised at the start of his speech to say something that would raise interest. His supporters in the audience had all kinds of expectations. They never expected a resignation announcement.

"Wow," was the first reaction, which came out of dozens of mouths at the same time. "We won't let you leave," one person cried out. "Gideon for prime minister," another person chanted.

The majority of the audience was in shock. Throughout their lives, they had heard about people resigning after an election defeat, when the choice is between retiring or being banished, but their world of expectations had never dealt with a voluntary resignation.

Likud Loss

In first speech since announcing dramatic break from politics, interior minister seems to back Lapid's demands for reigning in defense budget, highlighting tensions with Netanyahu.

Sa'ar's decision is a gamble of course, but it's a calculated gamble.

What Sa'ar basically told them was that he just realized what former minister Moshe Kahlon had realized before him: As long as Benjamin Netanyahu is prime minister, not one else has a chance to rise. According to an old Russian proverb, only mushrooms grow under big trees. In this case, nothing grows under small trees.

The lesson is probably broader: In the Israeli political system one can only advance from the outside. Those who go in are worn out. Look at what happened to Yair Lapid, to Moshe Ya'alon, to Avigdor Lieberman, to Isaac Herzog.

Naftali Bennett, who realized it in advance, is sitting inside but acting as if he is outside. I doubt anyone, including Bennett himself, remembers that he is the economy minister. In the government, he is playing the part of the alternative. There is one Knesset member in the Likud who is acting the same way: Danny Danon. Sa'ar doesn't want to be Danny Danon.

The third lesson has to do with the Likud. This party's supporters, including its chairman, should be concerned. Sa'ar and Kahlon's departure from the ruling party, at the height of their popularity, points to a deep rift. Rats are not the only ones who abandon a sinking ship – so do realistic politicians, when they are tired of fighting with the captain.

Unlike Kahlon, Sa'ar is promising to stay in the Likud forever. He entered the auditorium against the background of the party's legendary election song, an entrance which is usually reserved for the party's leader. He is saying to his supporters: I have been in this party in good days and bad days, I was loyal to it even during the split, and I plan to return to it later on.

The hidden message to his camp is: Stay loyal to me; there is a future. But the people who were present at the Kfar Maccabiah conference hall on Wednesday evening do not reflect the Likud's current Central Committee. The national-religious Jews were an insignificant minority. There were few ultra-Orthodox Jews, and as far as I could judge, few settlers. They were the old Likud. I doubt the new Likud would want him.

Netanyahu was on Wednesday night was like that guy from the Harry Potter books, he who must not be named. Not by his title, not by his nickname, not by his first name and not by his surname. There is no such thing as Netanyahu.

Every Likud Knesset member who showed up for the event – and about half of the faction members arrived, an impressive achievement – was mentioned; every mayor was mentioned too. (As interior minister, Sa'ar invited, with quite a lot of chutzpah, mayors and council heads who are members of other parties to a Likud event. They showed up of course. Had they known that the person who invited them was on his way out, they would have stayed home).

Sa'ar mainly used personal reasons to explain his decision to take a break. He turned his speech into a soap opera episode: He wants to be with his baby boy when he starts walking and hold his hand, he wants to be with his two older daughters, he wants to spend more time with his beloved wife. Voters around the world love this kind of kitsch. It turns the politician into a so-called human, so-called warm person, one of us.

Even if there is a grain of truth in the way Sa'ar describes his motives, it's hard to separate the truth from the pretension. Why does a politician have to drag a nine-month old baby into a political speech, why does he have to drag his older daughters into it, why does he have to confess his love in public, in front of a political audience, in front of the cameras?

Grooms do that on their wedding day in the very same hall, with the grace of young people with no experience in life. Within several years, 50 percent of them get divorced. But Sa'ar is a big boy.