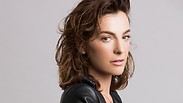 Ayelet Zurer
Photo: Guy Kushi and Yariv Fine
Israeli actress Ayelet Zurer has been cast as art gallery owner Vanessa Fisk in Netflix's "Daredevil" series, the show creators announced Saturday during a panel at the New York Comic Con.

The leading role of Matt Murdock, a lawyer blinded by radioactive substance, who uses his other superhumanly enhanced senses to fight crime as the costumed hero Daredevil, will be played by Charlie Cox (Boardwalk Empire).

Zurer's character, Vanessa Fisk is the wife of villain Wilson Fisk the so-called Kingpin of crime (played by Vincent D'Onofrio).

The show is expected to hit computer screens next year. While Netflix is not available in Israel, some of its original productions - like "Orange is the New Black" and "House of Cards" - were sold to Israeli cable company HOT and made available as part of its VOD service.

Daredevil is one of four Marvel comics shows Netflix was set to produce. It was previously made into a 2003 film starring Ben Affleck.

Zurer has appeared in several big Hollywood productions, among them "Man of Steel" as Superman's mother Lara, and the Da Vinci Code sequel "Angels and Demons" as leading lady Vittoria Vetra.