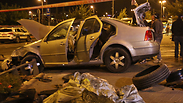 Not a day passes without a report about violence between Jews and Arabs in the 'united' city
Photo: Gil Yohanan
"Hey Mohammed, bring some balls. Let's play another game," I said to my friend at the youth club in Jerusalem's Old City. We were 15 years old at the time. It was in the late 1960s. We would ride our bikes together and take trips to the Mount of Olives and the Silwan Valley. We drank tamarind juice, ate ice cream and sat in coffee shops in Sheikh Jarrah, doing everything together.

But that was 45 years ago. It was and has gone.

Growing Violence

Op-ed: Instead of pointing an accusing finger at Abbas, it's time for Netanyahu to take action and deal with the roots of the conflict.

The past few months have made a very sad fact clear: "The city joined together," as our leaders often say, has turned into a city which has been divided – and is more divided than ever.

Suddenly, a drive to the French Hill neighborhood has become life-threatening. The Light Rail, which we were so happy about and promised to serve all of the city's residents, has turned into a trap of stones for every passenger.

Not a day passes without a report about violent incidents between Jews and Arabs in the "united" city's neighborhoods. It's true that the mayor and his council members – a council with not a single Muslim representative – are making an effort to renovate and improve the eastern part of the city, but the residents don't want the help anymore. Quite a few Molotov cocktails have already been thrown from entrance of the new school inaugurated in East Jerusalem in the past summer.

The bulldozer attacks of the past few years and Wednesday's deadly attack make every stop at a traffic light dangerous. A wall of stone, like the one Jerusalem had until 1967, no longer exists in the city; but the wall of hostility between Jews and Arabs is only growing stronger.

At a time when Jews and Arabs are brutally attacked and brutally attack on the streets of the city I grew up in, I would like to dream that the days in which Jews and Arabs speak to each other, play and live together in peace will return. This morning, unfortunately, this dream seems farther away than ever.