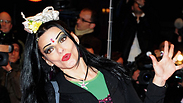 Nina Hagen
Photo: Gettyimages
German singer Nina Hagen, one of the icons of punk music, has called off her upcoming concert in Israel, which was scheduled to take place at the Tel Aviv Performing Arts Center on December 16.

Ronit Arbel, the show's publicist in Israel, said "it will be postponed by several months. We will announce the new date and venue in the coming days."

Surfin' Away

Legendary American band fails to provide reason for decision to call off November concert. Meanwhile, veteran Australian soft rock duo Air Supply signs contract for two Tel Aviv shows in December.

According to the Eventim ticket office, ticket purchasers who are not interested in holding on to their tickets until the concert is rescheduled will be able to receive a refund.

This was supposed to be Hagen's second visit to Israel. She first performed in Tel Aviv in 1986, at the legendary Liquid Club.

Hagen made her breakthrough in 1978 with the successful self-titled debut album of the Nina Hagen Band. The group's second and last album, "Unbehagen," was released in 1980, and the same year she left Germany and moved to the United States.

In 1982, Hagen released her first solo album in the United States, "NunSexMonkRock," which was also her first album in English.

But it was her second English-language album, "Fearless," produced by Girogio Moroder, which gained her success in the album charts and sales.

The album included the dance punk song "New York / N.Y.", which was a huge hit in the US, Europe and Israel.

Nina Hagen is considered one of the starts of new wave and post-punk music and has many fans in Israel.