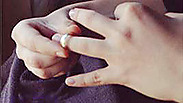 'A tremendously important step forward in safeguarding Jewish women'
Photo: Gabi Menashe
The Knesset is considering new legislation to help innumerable Jewish women across Europe who are currently agunot – "chained" to their marriage.

The legislation was proposed by the Conference of European Rabbis (CER) at their meeting in Berlin in 2013.

Good News

Gital Dodelson has been campaigning for months in order for her husband to grant her a religious divorce. Now she is finally a free woman

Although all religious courts already have powers against men who withhold a get (Jewish divorce), previously the laws of agunot have left many women around the world stranded after their husbands ignored rabbinic instructions.

The CER has proposed that Israeli rabbinical courts should have civil powers to place sanctions on offenders no matter where they are in the world, which would be acted upon if they were to travel to Israel.

The organization hopes that this will act as a deterrent against the shameful practice of a man refusing to give a get to his wife.

In practice, this would mean that civil sanctions – including a jail term – could be issued against the husband. If he were ever to travel to Israel, police would have the power to arrest him upon his arrival.

"In an ideal world, this kind of legislation would never be necessary," said CER President Rabbi Pinchas Goldschmidt. "Yet we believe that this legislation is a tremendously important step forward in safeguarding Jewish women and hope that it goes some way to overcoming the problem of agunot around the world."