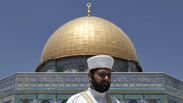 'When those bandits blow winds of war inside Al-Aqsa, we build in their synagogues'
Photo: AFP
A Turkish governor is threatening to to turn a century-old synagogue into a museum as punishment for Israel's alleged actions against the Al-Aqsa Mosque in Jerusalem.

Dursun Sahin, governor of the province of Edirne, said he was turning the 107-year old Buyuk Synagogue into a museum and would not permit the Jewish community to use it for ritual purposes. 

Anti-Semitism

As tensions rise between Jews and Arabs in Israel, Holland's chief rabbi says two Arab men tried to run him over, 'To be demolished' sign posted on Istanbul synagogue, Jewish teen assaulted in Paris and an online campaign glorifies vehicular attacks.

The Turkish government is currently paying for a renovation of the synagogue.

Sahin told reporters, "When those bandits blow winds of war inside Al-Aqsa and slain Muslims, we build in their synagogues. I say this with a huge hatred inside me. We clean their graveyards, send their projects to boards. The synagogue here will be registered only as a museum, and there will be no exhibition inside it."

The Anti-Defamation League (ADL) has expressed outrage at the Edirne governor's hostile statements and intent to bar Jewish worship and ceremonies from the historic synagogue as an act of punishment for alleged Israeli actions.

"He did not try to hide his hatred of Jews," ADL National Director Abraham H. Foxman said in a statement. "It was clearly expressed in his public comments."

According to Foxman, "These statements and actions exacerbate the sense of unease and heighten the concern felt by the age-old Turkish Jewish community in the face of increasingly hostile public discourse towards Jews and Israel in Turkey."

ADL welcomed the rejection of Sahin's comments by Turkish officials in charge of this Jewish religious site, and called on "responsible leaders at the highest levels of the Turkish government to add their voices of rejection and condemnation of these offensive and threatening comments."