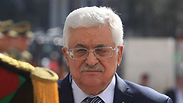 Mahmoud Abbas. What makes him so likeable among certain political circles in Israel?
Photo: EPA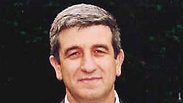 When around the time of Yasser Arafat's death, Mahmoud Abbas emerged as his designated successor, some in Israel rushed to bestow endless titles on him: Moderate, pragmatic, practical, a man of peace, etc.

Abbas soon became the Israeli left's darling, and even in the centrist and right-wing parties there were those who said that if a Palestinian leader ever signed an agreement – it would be Abbas.

Abbas' Book

In 1982 doctorate, Palestinian president not only doubts existence of gas chambers, number of Jews perished, he also accuses Zionist movement of secretly colluding with the Nazis and supporting the genocide of the Jews of Europe.

An entire decade has passed, peace is further than ever, and it seems that in some political circles in Israel, there are those who believe in the man and in his way.

"I don't like hearing his harsh statements against Israel, but this is Abbas and he is second to none" is the classic comment made by his supporters in Israel. In other words, Abbas can accuse us of genocide, insult us with the harshest words, inaugurate squares and streets named after suicide bombers and murderers, call for an armed struggle against us, and still remain a "man of peace" to some of us.

What makes this 80-year-old leader, who is slowly becoming an "Arafat in a suit" and who continues to be an address for peace despite his support of war, so likeable?

The majority of the Palestinian public despises Abbas because he is a corrupt leader, not just publicly but also personally. Mohammed Dahlan filed a complaint against him with the International Criminal Court in The Hague for stealing $1 billion from the Palestinian Authority coffers. There are serious claims in the Palestinian Authority about governmental corruption, benefits given to his family members, concessions granted to associates who thrived during his era, and even rape incidents involving senior PA officials, which were silenced by Abbas.

Abbas has dismissed all the speculation that during his talks with former prime minister Ehud Olmert and then-foreign minister Tzipi Livni he allegedly waived the refugees' return to Palestine. "That will never happen," he reiterated. "Every refugee has the right to return to the house he was deported from," Abbas stressed.

He has also shaken off all the rumors that he allegedly agreed to have Jerusalem divided, leave some of the settlements in the West Bank and accept a compromise on the borders. Even when he was presented with copies of WikiLeaks news leaks, he continued to deny it, claiming that the idea was raised but that he would never agree to it.

Abbas' attitude towards Hamas is an example of the political zigzag that characterizes him. First, he establishes a unity government with Hamas and calls the hostile terrorist organization "our sister," and months later he spies on it, badmouths it to Egyptian President Abdel Fattah al-Sisi and threatens to wage a war against it.

First he unites the "Palestinian ranks" with Hamas, and immediately afterwards he strengthens his coordination with Israel against the organization and instructs his assistant, General Majed Faraj, to hit it hard.

Abbas is seen by the Israeli public as an opportunist, as a professional survivor and spineless leader. He accuses Israel of genocide while collaborating with the "murderers" in the tightest security cooperation. He attacks the settlements and the settlers, but enjoys the fact that the IDF, which defends them in the West Bank, provides him and the PA with security services at the same time. Without these services, he and the PA echelon would have already fled abroad for fear of Hamas.

More and more, it seems that Abbas has set such a high bar of demands for an agreement in order to prevent any Israeli leader from "being tempted," God forbid, because then he, Abbas, would be forced to sign the worst thing possible – a compromise over the Land of Israel.

In other words, he will divide Palestine, which in the Palestinian heritage is an act comparable to serious, unforgivable treason. The Palestinians' two great leaders, Haj Amin al-Husseini and Yasser Arafat, refused to sign on such a compromise, thereby ruling that any deviation in this case is eternally forbidden.

A survey published in September 2000 showed that 70% of the Israeli public supported former prime minister Ehud Barak's peace plan, which was presented to Arafat and to then-US president Bill Clinton at Camp David. This support rate has sharply diminished since then.

It's true that there was a murderous intifada in the meantime and a disengagement that only led to rocket fire on southern Israel. But Abbas has contributed quite a lot to the Israeli public's lack of trust in the Palestinian public. Does the Israeli left, which remains loyal to Abbas, know something the average Israeli doesn't know?

Dr. Moshe Elad is a lecturer at the Western Galilee Academic College.