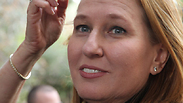 Why have right-wing politicians developed such an obsession with Tzipi Livni?
Photo: Zohar Shahar
For several days, it seemed that Tzipi Livni was at the center of the election campaign. She and her words, she and her dirty jokes about Prime Minister Benjamin Netanyahu, she and the political deals she struck with the Labor Party.

Astonished, I watched the left embrace her so strongly and the right turn her into the nation's enemy, while in practice there was nothing there. It lasted several days, because that's the life span of sentiments during elections.

Centrist Camp

Op-ed: While Hatnua chairwoman says she is fighting for a Jewish state, she is dangerously adopting the rhetoric of the anti-Israel left.

I see Tzipi Livni as a virtual character. She talks about a peace agreement she failed to reach and will fail to reach (even if she does become prime minister as part of a rotation system), yet she is not presenting any alternatives. She talks about a political center, but her reference point (at least at this stage in her career) is only the left.

She carries the "Just Not Netanyahu" banner, as if it's a disaster, but up to two weeks ago she only sat with him. She was the first to sit in his government and the first to leave it. Tzipi was in the government, and now she's out. That's all. There isn't much of an ideology here, no profound argument – just "seat politics" for the advanced. And if that's what she's selling, my advice is not to buy into it.

That's the main reason why Livni doesn't concern me. There are Knesset members whose comments irritate me, there are ministers who I attack and criticize. Sometimes I try to convince, and sometimes I have nothing to say.

When it comes to Livni, I just don't care. I am completely indifferent to her. Tzipi Livni was in the center, now she's in the left – and that's all there is to it. It's her problem. It's the Labor Party voters' problem.

And it is precisely from this point that I am finding it difficult to understand the obsession which has developed towards her, right-wing politicians' ongoing occupation with her political moves, unfunny jokes and tasteless appearance in a satire show. What happened? When did one lady become the greatest threat to the right's rule?

After Livni signed the agreement with the Labor Party, I interviewed several representatives of the Likud and Bayit Yehudi party on my radio show about election issues. Unexplainably, they all chose to talk about Livni.

They firmly argued that Isaac Herzog had struck a bad deal. They insisted that he got a party which makes not contribution. They lashed out at "that woman, who can't even cross the electrical threshold," slammed her metaphors about Netanyahu, complained and used up every minute they had on the air to talk about Livni instead of about their own party.

The same happened on other shows. Livni has become the ultimate target, and they have become the brave soldiers fighting her with harsh words. While the left-wing bloc is selling the slogan "Just Not Netanyahu," they – without even paying attention – have become passionate salespeople of the "Just Not Livni" slogan. Through foolish interviews to the media, they have put her and Netanyahu on the same level. Accusing, and upgrading.

When the Likud did it to Naftali Bennett in the previous elections, it only strengthened the Bayit Yehudi party. Today the Likud and Bennett's party are doing the same thing to Livni. If they are so stressed out, the centrist voter will say to himself, there must be something in it. That must be the way to send a balloon up.

The real problem behind these campaigns is the leadership void. The lack of leadership is reflected in many areas, but on days like this it stands out in the negative campaign.

In politics, the other side is always smeared – sometimes quietly and sometimes loudly. But smears are not the essence. A politician who wants to get elected should also present alternatives, create a vision, say what should be done.

One cannot vote for a party just because it's not Netanyahu, and one cannot vote for a party just because it's a "large home against all the left." What we need is content. When there is no content, the satire turns into an ideological argument and slogans turn into a party's platform.