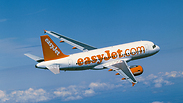 Plans for Hamburg-Tel Aviv route put on hold. easyJet plane
British low-cost airline easyJet is planning to introduce a new route from Tel Aviv to Amsterdam, senior airline officials implied last week during a series of meetings in Israel with members of the Israel Airports Authority and the local tourism industry.

According to easyJet Network Development Manager Neil Slaven, who is in charge of the routes to Israel, the company's research in recent months points to a demand for an Amsterdam-Tel Aviv route and this destination is part of the airline's plans.

2014 Summary

easyJet ranks second following 53% growth in number of passengers it carried from and to Ben-Gurion Airport in 2014.

easyJet has been active in Amsterdam since 1996, although it only opened a main office in the Dutch capital six months ago, and has been operating flights from there to more than 20 destinations across Europe.

The company's executives have stated in the past that as soon as the airline has a base in Amsterdam, it will consider operating flights from there to Israel. Now, they say, the matter is now on the agenda.

Meanwhile, easyJet is expected to launch its new Tel Aviv-Paris route in about two months after receiving the approval of the French Civil Aviation Authority. When the company first announced the new route, it said that the starting fare for a one-way ticket from Tel Aviv to Paris would be €45.99 (about $53), including taxes, but a review of the easyJet website shortly afterwards showed no tickets for these prices.

Slaven explained last week that the ticket sale was "crazy" and that all the cheap tickets to Paris were sold within a very short period of time. "There is a high demand for this route, and that's the reason why we fought to open it," he said.

Addressing the possibility that the company would introduce flights between Eilat and different destinations in Europe, Slaven said that at this point the company had no intention of flying to the southern Israeli resort city as the current airport was unsuitable for its activity.

He added, however, that the company was following the progress of the new international airport being built in Timna. "Once it opens, we will consider the profitability of operating flights from Europe," he said.

Asked why easyJet decided to cancel its plans to introduce a Tel Aviv-Hamburg route, Slaven replied that early sales revealed a low demand for flights between the two cities, and therefore the company decided to put the plans on hold for now.

A Hamburg-Tel Aviv route will be launched in March by Germania Airline.