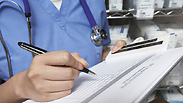 Illustration
Photo: Shutterstock
Dr. Richard Horton, editor-in-chief of The Lancet medical journal, is in Israel launching a partnership with some prominent Israeli physicians toward the publishing of a series on Israel's medical system. This could be an important first step toward healing the longstanding friction between The Lancet and the Israeli medical community that was exacerbated when The Lancet published the mendacious "Open Letter for the People of Gaza" during last summer's conflict with Hamas.

This letter also has a serious "Jewish problem." NGO Monitor researchers uncovered emails from two of the main authors – Drs. Paola Manduca and Swee Ang Chai – enthusiastically promoting an antisemitic video by American white supremacist David Duke, which purportedly "reveals how the Zionist matrix of power controls media, politics and banking."

Under Attack

Twenty-four physicians and scientists publish open letter against IDF's activity in Gaza in leading medical journal The Lancet. Health Ministry demands removal of letter's online version.

On a public panel with Horton, in December 2013, another principal Gaza letter author, Sir Iain Chalmers, made comments echoing Duke's. Chalmers spoke of how "the Zionists" have "control in so many different domains." He also mused over the "interesting figure" of "six million" in relation to the number of non-Jews "whose lives" the "Jewish state" controls.

Last October, at the invitation of the Rambam Medical Center, Horton came to Israel in full damage control mode. Despite acknowledging the Gaza letter's toxic origins and expressing his "deep regret" for the "polarization" it caused, he failed to apologize and said nothing about retraction. The letter still resides on The Lancet's website.

The problems run much deeper as Horton also failed to address the many editorials and articles in his journal that amount to a general J'accuse against Israel.

This corpus is a result of the Lancet-Palestinian Health Alliance formed under Horton's tutelage. LPHA is partnered with Birzeit University, which bans Jews from its campus. Medical Aid for Palestinians (MAP), a group co-founded by David Duke booster Swee Ang, also plays an important role in the LPHA.

NGO Monitor's research shows that between 2001 and 2014, The Lancet published 264 items on Palestinian healthcare issues, of which nearly 154 (nearly 60%) carried extensive political rhetoric harshly critical of Israel to the point of demonization.

One of these items illuminates the problem well. In 2011, The Lancet published an abstract "Childbirth at checkpoints in the occupied Palestinian territory" by Halla Shoaibi. Stemming from a talk she gave at the 2011 LPHA conference, this document makes a number of assertions that Israeli checkpoints – set up to prevent terrorist infiltrations – caused the deaths of Palestinian infants and mothers. Shoaibi opined that these were "crimes against humanity."

Halla Shoaibi is a lawyer and a political activist – not a medical researcher – who supports BDS (boycott, divestment and sanctions). Her abstract, therefore, is a politicized polemic, not a peer reviewed scientific document.

Despite this, and most egregiously, Horton wrote an online comment where he repeated and amplified Shoabi's accusations, lending a patina of scientific credibility to political propaganda.

Armed with an authoritative imprimatur, the Shoaibi abstract has been cited far and wide in over 40 online sources. It is quoted in the prestigious BMC Medical Journal, in a NATO blog, in St Antony's International Review. Her "conclusions" are also disseminated by numerous anti-Israel NGOs to bolster claims of Israeli "crimes against humanity."

Worse still was the The Lancet's shameful muzzling of an in-depth rebuttal by Dr. Arthur Eidelman, Chair (emeritus) of the Department of Pediatrics at Shaare Zedek Medical Center, who demonstrated serious analytical errors made by Shoaibi. The Lancet's ombudsman concurred with many of Eidelman's points and recommended he submit it as a letter to the editor. Eidelman then sent it to Horton. A few weeks later he received a generic rejection letter.

Horton's own record of demonization cannot be ignored. A video shows him speaking at a 2012 MAP event, "Pitching for Palestine." He is seen concocting an imaginary scenario in which Palestinians have no access to health care whatsoever, and then blames Israel for this wholly fictitious situation. He then called for a global "uprising" while hoping for "shame and horribles (sic) on Israel."

As a scientific medical journal, The Lancet is in a unique position to play a constructive and positive role not only in improving the healthcare of Palestinians, but also contributing to the prospects of peace by building bridges between the Israeli and Palestinian medical communities. By taking such a highly politicized and one-sided course in the Israeli-Palestinian conflict, The Lancet, under Richard Horton's tutelage, has instead contributed to polarization and conflict.

The partnership being built by Horton and his Israeli colleagues may remedy this travesty, but only if the following steps are taken. First, reform the Lancet-Palestinian Health Alliance by de-politicizing its content and by disassociating The Lancet from Swee Ang's Medical Aid for Palestinians. Second, Horton should apologize for, retract, and publicly remove the tainted "Open Letter for the People in Gaza" from The Lancet's website, and personally apologize for and retract his own hostile comments against Israel.

These steps would signal a real change in Horton's attitude and would signal a tangible change in attitude by The Lancet and its publisher, Reed Elsevier. Anything less would just be window dressing, covering an ethical stain that will long define The Lancet's legacy and Reed Elsevier's corporate image.

The author is chief programs officer at the Jerusalem-based research institute NGO Monitor.