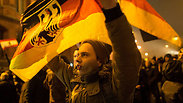 PEGIDA protest in Berlin. 'We demand zero tolerance against religious extremism'
Photo: Gettyimages
BERLIN – Christian Mayerhoff, a spokesperson for PEGIDA, the grassroots initiative which started in Dresden, Germany in autumn of 2014 and now coordinates anti-Islamist protests in 10 European countries, sat down for an exclusive interview with Ynetnews in Berlin this week in a bid to address the Jewish world's concerns about his movement.

Mr. Mayerhoff, Chancellor Angela Merkel warned Germans in her New Year's televised address that people at PEGIDA protests are filled with "hatred" in their hearts. What is your reaction to this statement?

"We think Frau Merkel wants the world to believe she hold the high moral ground. But this is not true. Her government sells weapons to dictators in the Middle East, such as tanks to Saudi Arabia. Her government closes an eye to the infiltration of German mosques and German cities with Islamist preachers and Islamist propaganda material. What is happening today is totally unacceptable."

Against Radicalism

German newspaper Bild publishes appeal against anti-Islamization group PEGIDA with quotes from 50 politicians and celebrities 'saying no to xenophobia and yes to diversity and tolerance'.

PEGIDA claims that Germany and Europe are threatened by Islamization. What do you mean by this?

"We mean that there are in many European countries rapidly growing Muslim parallel societies. This is in itself not bad. What is negative and dangerous is that these communities contribute disproportionately to social problems such as vandalism, unemployment, crime and terrorism.

"Before we allow these communities to grow further, we should make their members are integrated into mainstream society just like immigrant communities of Eastern Europeans, East Asians and South Americans."

Fears of Islamist activities in Europe were heightened by the latest terror attacks in Paris. Has the response of the German authorities satisfied you?

"No it hasn't. De Maizière, our interior minister, came out saying that these attacks have nothing to do with Islam. This makes him lose all credibility. It's like saying that Nazism had nothing to do with Germany."

But PEGIDA has been labeled a pro-Nazi, xenophobic and racist movement by mainstream German media. Even Josef Schuster, president of the Central Committee of Jews in Germany, stated that you are pyromaniacs.

"We are no Nazis. Personally I was active in left-wing human rights movements in my youth during the early 1990s. After 9/11 I started learning about Islam and Islamism and this changed my opinion about multiculturalism and political correctness. In PEGIDA there are leftists, centrists and conservatives. In the city of Kassel our committee includes a Croatian, a Jew and a secularized Muslim…

"But personally, I sympathize with Mr. Schuster. In Germany and Europe, Jews are nowadays harassed and attacked for no reason. If the leaders of Jewish communities said something fair about PEGIDA, it would be used as a pretext by Islamists to escalate their anti-Semitic campaigns."

What anti-Semitic campaigns are you talking about?

"Sociologists and pollsters who monitor Muslim communities in Europe regularly reveal that anti-Semitism is rampant, especially among young religious Muslims. In mosque sermons preaching against Jews is a Friday pastime.

"For example, last summer in Berlin, Sheikh Abu Bilal Ismail openly called for Jews to be exterminated. He was not incarcerated. This indulgence is suicidal."

Yet Germany's intellectuals also attack PEGIDA and repeatedly sign public statements to repudiate your agenda. Doesn't this generalized hostility concern you?

"Writers and artists love to sign appeals. They should sign more appeals against ISIS and Boko Haram instead of being obsessed about PEGIDA. They attack us and do not bother to read our demands. Readers should visit us on Facebook and decide for themselves if we are more dangerous than the Islamists in Europe."

But what are your demands concretely?

"We support a better treatment of real asylum seekers and the repatriation of fake asylum seekers. We call for a more selective immigration policy in Germany and the European Union along the lines of what works well in Canada, Switzerland and Australia. We demand zero tolerance against religious extremism and against all calls to murder in the name of God."

But don't you think you are targeting Islam and ignoring the dangers of Christian and Jewish fundamentalism?

"All religions should respect the law in Europe. We do not see Europe priests or rabbis calling for believers of other faiths to be murdered."

But all Muslim religious leaders and community leaders in Europe condemned the terror attacks in Paris.

"That is not enough. Muslim leaders must stop tolerating imams in their midst who preach violent jihad. We don't care if it's jihad in Europe, jihad in Syria or jihad in Palestine. To condemn killing in the name of God must be a basic value."

But who is PEGIDA to demand that Muslims teach a 1,400-year old religion in a way that suits your political agenda?

"I am not a Muslim and PEGIDA cannot tell Muslim how to read the Quran. As Europeans we do have the right to demand that all religions in our continent respect the law. To teach that it is good to kill in the name of God is unacceptable and must be seriously punished."

Does PEGIDA have a message for Muslims?

"Europe is a generous host. Muslims who respect our laws and ethical values are welcome. Muslims who hate Western values and support violent jihad should not come here. Muslims who are against Islamism are of course welcome at PEGIDA."

Do you have a message for Jews?

"We want Jews and Israelis to feel safe in Europe. We want you to be able to show your faith on Europe's streets openly. We must stand united against Islamism and jihadism."

How does it feel to speak on behalf of the most despised political movement in Germany?

"It is very frustrating. The demonization of PEGIDA is evidence that the elites in Germany are completely out of touch with reality."