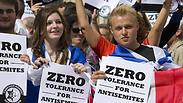 Rally against anti-Semitism in London. 'The only possible response is zero tolerance'
Photo: AFP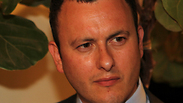 British Ambassador to Israel Matthew Gould
Photo: Mati Milstein
Once again, my sad duty as ambassador has been to attend the funeral of victims of terror. Once again I have had to pay my country's respects to families who have lost someone they loved. When we leave, I will miss Israel, but I will not miss these impossibly sad occasions.

This time, the funeral was of Yoav Hattab, Yohan Cohen, Philippe Braham and Francois-Michel Saada – killed in Paris for being Jewish.

Alarming Figures

Almost 60% of British citizens aged 18-35 have no knowledge that six million Jews were killed by Nazis, European Jewish Congress survey shows.

For the Jewish community in the United Kingdom, their vicious murder was too close to home. They are understandably concerned. The British Government shares their concerns, and is determined to keep Britain's Jews safe.

At a community event, Home Secretary Theresa May set out how strongly the British Government felt: "I never thought I would see the day that Jewish people would say they are fearful of remaining here in the UK – which means we must redouble our efforts to wipe out anti-Semitism in the UK."

The murders in Paris have come after the events of the summer – when the number of anti-Semitic incidents increased sharply. The British Government has responded quickly and unambiguously. Prime Minister David Cameron has condemned anti-Semitism in the strongest terms:

"The idea that the Jewish people once again feel unsafe in Europe is a truly sickening thought that strikes at the heart of everything we stand for. While the situation here in the UK is significantly better than in many other countries, we too have seen a completely unacceptable rise in anti-Semitism."

His message was clear: "We are going to take that spirit from the march in Paris and we are going to fight anti-Semitism with everything we have got. My policy is simple: zero-tolerance. No exceptions and no excuses. So let me be clear: No disagreements on politics or policy will ever be allowed to justify racism, prejudice or extremism in our society. Over generations we have built something incredible in our country: A multi-ethnic, multi-faith democracy – and we are not going to let anti-Semitism destroy it."

One of the strengths of Britain's Jewish community is its close partnership with the police on security. The Community Security Trust is a model of its kind, and has established real understanding between the community and the authorities. The Government has provided £2.3 million (about $3.45 million) this year for security guards at Jewish schools. Increased patrolling has been in place in Jewish areas since August and has been enhanced since events in Paris.

But the response needs to go well beyond the immediate threat. That is why the Government has provided an additional £130 million for our security agencies over the next two years to counter the threat from terrorism. It is why we are working to remove extremist material from the internet, ban extremist preachers from entering our borders, investing additional resources in programs that prevent young people from becoming radicalized, and introducing new legislation that mandates all public bodies to prevent terrorism.

We also need to ensure that our police and security agencies have the tools they need to keep Britain safe. This is why we are working on new powers to disrupt those who wish to travel abroad to engage in terrorism related activity and to control their return to the UK. Measures in the draft Counter-Terrorism and Security Bill will strengthen their ability to police our borders as well as our streets.

From our prime minister down, we know that the only possible response to anti-Semitism is zero tolerance. We must not let the bigots and the terrorists win. Britain's Jewish community – the community I grew up in – is healthy, vibrant and proud. Its members contribute to Britain out of all proportion to its numbers, in science, politics, business, education, media and the arts.

By almost every metric, the Jewish community in Britain is flourishing. According to almost every study, Britain is among the least anti-Semitic countries in the world.

We are determined it should stay this way.

Matthew Gould is Britain's ambassador to Israel.