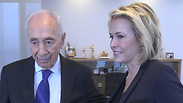 Handler and Peres meet in Jaffa.
Photo: Yogev Attias
Chelsea Handler, the Jewish-American TV Personality best known for her late-night talk show "Chelsea Lately" on the E! network, paid a visit to Israel in order to take part in a fundraiser for cancer patients and also managed to meet one of Israel's most historic leaders – former President Shimon Peres.

After visiting the Western Wall in Jerusalem and placing a note between the historic Jerusalem stones, Handler made her way to Jaffa to visit the Peres Center for Peace and met with Peres in front of several cameras – Handler's visit to Israel will be featuring in an upcoming personal documentary in which she explores her Jewish roots and examines Israel from social, economic, historic, and military angles.

Handler meets Peres (צילום: יוגב אטיאס, עריכה: תמר אברהם)

Handler received a tour of Peres' personal office, library, and balcony which overlooks the Mediterranean, all the while asking Peres about a range of topics such as his political path, the Holocaust, his relations with Israel's first prime minister David Ben Gurion, the establishment of the State of Israel, and Israel's nuclear policy – a far cry from the topics Handler usually explores on her late-night talk show in which she banters with her assistant, Chuy Bravo.

Handler was born to a Jewish father and a Mormon mother of German descent and was raised as a reform Jew.

Handler's participation in the TLC television show "Who Do You Think You Are," a TV show that follows celebrities as they research their roots, made waves after the comedian found out that her maternal grandfather had been a Nazi.

"Whether or not he agreed with Hitler, he was serving in the German army, and then he was taken as a prisoner of war to America where he stayed for several years," the comedian revealed in the episode. "My German grandma definitely spoke about her life during the war way more than my grandfather did. He never spoke about it."

In the episode, Handler also suggested that it was her father that insisted that she be raised as a Jew.

"My father, I guess, made a deal with my mother when they had children that they were gonna be raised Jewish," Handler says. "So I connect with my Judaism, or the Jewish side of my family, more than anything else."