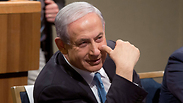 Netanyahu. Anyone who doesn't see himself as a rightist is excluded from the National Camp
Photo: AFP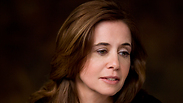 Tami Arad
Photo: Vardi Kahana
Bibi the babysitter could have been a funny election ad if the children in the Gaza vicinity communities were not suffering from nightmares, if Operation Protective Edge was not a bad dream, and if it were not for the feeling that the two soldiers who were killed last week near the village of Ghajar were the tray carrying Hezbollah leader Hassan Nasrallah's anxiety pills.

Portraying Prime Minister Benjamin Netanyahu as a prototype of a kindergarten teacher who will protect our children points to a well-developed sense of humor, and if you add Bayit Yehudi Chairman Naftali Bennett as Bibi's designated defense minister to the equation, it receives an element of black humor.

Zionist Ideology?

Op-ed: Netanyahu's party is right to criticize different candidates on the Labor list; but the Likud itself is fulfilling the Palestinian dream of one large state, both ideologically and practically.

That doesn't mean that Bibi and Bennett are happy when a terror attack occurs. After a terror offensive they are filled with rage. They threaten not to keep silent, offer their condolences to the family, while safely riding the blast waves.

And the truth is that so far they are succeeding: At least 50% of the Israelis believe that if the country will not be ruled by the right, the State of Israel will face an existential danger. With Nasrallah and the Islamic State gathering along our fences, Riki from Hadera won't dare complain that she has no way of making ends meet.

Following the terror attacks which helped Netanyahu rise to power in the 1996 elections, the right appropriated Israeli nationality. Since then, any person who doesn't see himself as a rightist is excluded from the camp. According to Netanyahu, anyone who is not part of the National Camp is a leftist. And "left," in his eyes, is a derogatory term, which could easily be replaced with Buji or Tzipi.

In 1997, Bibi whispered in Rabbi Kaduri's ear that left-wing Israelis had forgotten what it meant to be Jewish. Today he is no longer insisting on Judaism, perhaps because he discovered that non-Jewish women from northern Europe could make nice girlfriends for his children.

That's how modern patriotism was born, building the layers of the renewed right-wing national logic. If you are a leftist, you are no patriot. And if you claim to be a centrist, you are an imposter – because as far as Netanyahu is concerned, there is no such thing as a political center. There is either right or left.

In Netanyahu's world view, the middle or the center disappeared into sinkholes along the shores of the Dead Sea, so whoever calls himself a centrist is immediately labeled as a leftist suffering from Zionist anemia or, in the worst case, as a leftist who is unfaithful to the state.

Isaac Herzog and Tzipi Livni's idea to call themselves "the Zionist Camp" is a desperate attempt to hit back at the right's control over who is a Zionist and who is a patriot. But it takes time to develop a national brand, and it will likely take more than a month and a half to separate the Pavlovian connotation between the National Camp and the right.

If we continue the election campaign's humoristic line, the next ad will be an animation on behalf of the V16 organization, the next generation of V15: We have yet to raise money and recruit volunteers, and so this ad is only on paper.

Imagine a blue kettle and a white spout. The National Camp is a blue kettle filled with water and the Bayit Yehudi party is a white spout. Every time the National Camp boils, for good or bad reasons as far as it is concerned, the spout breaks loose from the kettle and flies in the air. Today's youth likes to say that these types of spouts "fly all over themselves" ("are full of themselves" in Hebrew slang) – in other words, they suffer from euphoria or are drunk with power.

The Eli Ohana incident is a classic case of the spout's flight. The animation's captions explain that Bayit Yehudi ("Jewish Home") is not a racist home. It's a warm and loving home which doesn't dislike Sephardic footballers, but is strongly against – for modesty reasons, of course – using anti-dandruff shampoo (which was once advertized by Ohana).