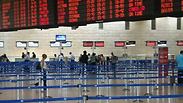 Ben-Gurion Airport
Photo: Gilad Morag
A number of foreign airlines which have yet to fly to Israel will begin operating in the country in the upcoming summer season. In addition, Israeli travelers will be offered new destinations on direct flights from Ben-Gurion Airport.

The new companies which will begin flying to Israel in the coming months include Kenya Airways, Air Bucharest, China's Hainan Airlines and Lithuania-based Small Planet Airlines. Blue Panorama Airlines will resume charter flights from Italy.

Vacation Trends

Survey conducted ahead of Tel Aviv tourism fair reveals Israeli travelers favor New York over Paris, would like to visit Dubai if they could.

According to the Israel Airports Authority (IAA), several airlines will offer new routes from Israel during the summer season (March 29 to October 24), including direct flights to Boston by El Al, and direct flights to Florence and Bologna in Italy, to Ibiza in Spain and Porto in Portugal by Arkia.

The Germania airline will offer direct flights from Tel Aviv to Baden-Baden and Hamburg. Other news destinations include Rijeka in Croatia, Volos in Greece and Târgu-Mureș in Romania.

Ben-Gurion Airport General Director Shmuel Zakai says there has been an increased demand from foreign airlines to fly to Israel. Some 15 million passengers passed through Israel's international airport in 2014, a 6.6% increase from 2013. Some 14.26 million of them traveled on international flights, while the rest traveled to Eilat.

The number of passengers leaving Israel from Terminal 1, which is used for low-cost flights, doubled in 2014 and is expected to double this year too, Zakai says. At the moment, 7% of international flights depart from Terminal 1.

Meanwhile, in light of the increase in passenger traffic, a fourth concourse (E) is being built at Ben-Gurion Airport at a total cost of NIS 660 million. The project covers 17,000 square meters and includes eight jet bridges, including three for large planes which allow passengers to board and disembark from two jetways at the same time.

The new concourse will include two ground gates for buses, five aprons for large planes or seven for small planes, cafés, a lounge and shops.
'Israel can reach 5 million tourists a year'
Shmuel Marom, chairman of the Israel Incoming Tour Operators Association, said Monday that Israel could reach its goal of five million foreign tourists a year within two years.
"This goal has been set by the entire tourism industry and it can be met," he said at the start of the 2015 International Mediterranean Tourism Market (IMTM) in Tel Aviv.
According to Marom, the government must make the tourism industry its top economic priority. "The government isn't doing enough and isn't investing enough in infrastructures and in marketing tourism around the world," he stated.
"We have been treading around 3.5 million tourists for several years now, and this is a badge of shame for all of us. It's true that our geopolitical situation is problematic, but if the Israeli economy can grow in such an environment, so can tourism."