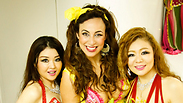 Organizer Orit Maftsir with two of the dancers
Photo: Renee Rodriguez
Six Japanese dancers cancelled their participation in the international belly dancing festival, held Wednesday in Eilat, at the last minute.

The dancers cited fear of the Islamic State group, which recently executed two Japanese hostages, as the reason, said an organizer of the event.

Courageous Reporter

'By cuddling with them, I can talk with the people. I can hear their views - their pain and their hopes,' said slain journalist.

The event's organizers, Yael Moav and Orit Maftsir, tried unsuccessfully to change their minds.

"We explained to them that Daesh (Islamic State) has nothing to do with Israel and that Israel is safe, but they are scared. They told us their families wouldn't allow them to travel to Israel," said Maftsir.

The Islamic State released a video 10 days ago documenting the killing of Japanese journalist Kenji Goto. The video showed "Jihadi John" threatening Japanese Prime Minister Shinzo Abe with further violence.

The British-accented jihadi told the Japanese government: "You, like your foolish allies in the Satanic coalition, have yet to understand that we, by Allah's grace, are an Islamic Caliphate with authority and power - an entire army thirsty for your blood."

A week before that, a video showed Goto holding a picture of the corpse of another Japanese hostage, Haruna Yukawa.

This is the 11th year in which Eilat is holding the belly dancing competition. The festival at the Club Hotel will host about 800 dancers.