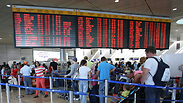 Ben-Gurion Airport. 13% increase in Israelis' flights abroad
Photo: Yaron Brener
The year 2015 began with a 13% increase in Israelis' flights abroad. According to figures released by the Central Bureau of Statistics, 294,000 Israelis exited the country in January 2014 (reflecting a 10.5% increase from January 2014), 275,000 of them travelling via plane (up 13.1% from the same period last year).

Eight percent of Israelis' flights abroad in January were by Israelis who live overseas and arrived in the country for a visit.

Bon Voyage!

Israeli travelers will be offered new destinations in upcoming summer season; number of low-cost flights expected to increase.

The data on visitors' entries to Israel, on the other hand, Israel's incoming tourism industry has yet to recover from the crisis it experienced following last summer's conflict in Gaza, with a 16.1% drop in the number of visitors from January 2014.

According to the data, the main reason for the drop in the number of tourists is a total collapse in one-day visits. While 150,000 tourists arrived in Israel last month via air,

reflecting a 3.4% increase, the number of day visitors was only 14,000 – a 70.9% drop from the same period last year.

The one-day visitors are usually Russian tourists who visit Egypt or Turkey and stop in Israel for one day. Due to the economic crisis in Russia, Russian tourism is in a constant decline, affecting the number of one-day visitors to Israel.