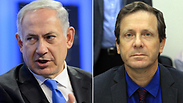 Benjamin Netanyahu and Isaac Herzog
Photos: EPA, Gil Yohanan
A new poll has Prime Minister Benjamin Netanyahu's Likud in a dead heat with its main rival for the leadership of Israel, with the Zionist Union actually leading on the Likud by a single seat.

The poll, by Israel's Channel 2 News, has the center-left Zionist Union at 25 Knesset seats and Likud trailing by one with 24. The poll has a 3.6 percent margin of error.

Israel's election system has different parties contend for spots in the 120-seat Knesset. Many times, the party with the most seats forms a governing coalition by forging alliances with the smaller parties. The next prime minister is the head of the party who manages to bring the different parties together.

The joint Arab List – a unified ticket of three different Israeli-Arab parties, including one which also touts a Jewish representative –took the third spot with 12; though it is unlikely it would join a governing coalition, even a left-wing one. In the past Arab parties have agreed to unofficially express support for a left-wing government, granting them the de facto majority they need to rule.

Tied for fourth with 11 Knesset seats were the right-wing Bayit Yehudi party and the centrist Yesh Atid, led respectively by Naftali Bennett and Yair Lapid.

They were followed by the newly formed Kulanu party, which polled at 7 seats. The party, headed by former Likud minister Moshe Kahlon, is running on a socio-economic platform, and is considered a swing vote in the election, Kahlon could throw his support behind either the Likud or the Zionist Union.

Registering a small bump in polls was Avigdor Lieberman's Yisrael Beytenu party – which hold significant power in the current government but have plummeted in recent polls – now polling at 7.

The ultra-Orthodox Sephardic party Shas was polling at 6. The relatively low number is a result of the formation of splinter party, Yahad - Am Ehad, led by Eli Yishai and running on a more militant platform, and which is currently polling at 5, resulting in a loss in votes for Shas.

The left-wing Meretz party was standing solid at 5 – which puts them at risk for not crossing the threshold.

The ultra-Orthodox United Torah Judaism was polling at 7, the result it is expected to attain as it enjoys a stable voter base which always votes inside the political camp.