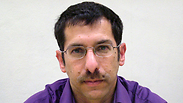 Uri Orbach
Photo: Gabi Menashe
I've been writing my Yedioth Ahronoth column for 13 years. At times it seems like my column already knows how to make its own way from my keyboard to the pages of the paper, where it waits to be left at the doorstep of hundreds of thousands of households and millions of loyal readers. The printed word has such magic that at times when I read my own column on Friday, even I become convinced how right I am.

Yet here I am, leaving the paper and heading – should the voters decide so – into politics, by joining the emerging Bayit Yehudi (Jewish Home) party.

Mourning the Minister

Government to convene for special session to mourn passing of beloved journalist, Bayit Yehudi minister; Bennett: 'No one was more loved than Uri in cold world of politics.'

Why am I doing it? Not just because I feel like it all of a sudden, and not because they asked me to join a week ago (well, sure, of course this is also a reason. Let's not be a hypocrite here). The main answer to this question happens to be: "Because!"

Because I feel like making an impact in a different way. Because sometimes one needs to make a decision and go for it without thinking too much about what other people will say.

Because after all, it is easier to be a journalist for 25 years and criticize the whole world, yet when you are asked to join public service in line with the views you endorse say that right now is not a convenient time, because you need to pick up your kid from kindergarten.
Insights from journalism
As I'm a brand new politician, I already have a first insight about the shift from journalism to politics. This is not at all about crossing the lines. It is not about two opposites, but rather, a different kind of public service and the expression of a worldview through other means.
The difference between the journalistic mission and the political mission is like the difference between involvement and commitment. When a hen lays an egg for breakfast, this marks her involvement. When you eat its meat for lunch, this is already commitment. Well, up until a few days ago I was involved. Now I'm about to become committed. I just hope I won't be eaten up.
This is how far this analogy goes, because I'm doing it willingly and happily. As opposed to the chicken that gives us meat involuntarily, I think that commitment and a political mission have value, and at times are a must. The truth is that I have another excellent analogy, yet a columnist is supposed to know that two analogies in one piece are more befitting of a politician, or of Shimon Peres.
Trying to contribute
As a fresh politician, I need to start to produce. So to sum it up: I am trying to contribute my modest part to the establishment of Jewish Home – the new political movement of the national-religious and traditional public in Israel.
If this public is able to overcome the petty internal splits it will be able to promote the notions of love for the Torah, the people, and the land, making our beloved country a better place to live in for every citizen and attractive for every new immigrant.
This may sound schmaltzy, but it's true. Israel deserves to have this wonderful public not in conflict with its state, but rather, an equal and leading partner in its leadership. This public deserves a religious-Zionist and traditional party that is not sectarian, but rather, contributes its special voice to education, social causes, and the whole of the Land of Israel.
I wish to serve these ideas, although personally I will find it difficult to get used to the fact that after delivering a five-minute speech I can't play a song, like I do on the radio.
And here's a secret: Politicians talk about themselves a lot. This is a farewell column, and I already wrote the word "I" more than 10 times. In all the years that I've been writing, I would review my columns with my wife before sending them to the paper, and we would remove the word "I" as much as was possible. Please accept my apologies for deviating this time around. I won't do it again.