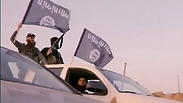 From the Likud's ISIS video
It's Saturday evening. There's a smell of rain in the air. Another week is about to begin. And then I run into Prime Minister Benjamin Netanyahu's new election video, which presents the left as an Islamic State collaborator, which will direct ISIS to Jerusalem.

I served in the Israeli military proudly and with a sense of mission as an officer in the Intelligence Corps. I spent the whole day collecting information about Islamic terror organizations seeking to harm Israel, and thwarting their plans. Over time, I learned how those vile people think and was exposed to their most malicious intentions.

That is precisely why I couldn't remain indifferent to Netanyahu's direct accusation that being a leftist makes me an ISIS collaborator, no less.

Likud ad (in Hebrew) showing ISIS arriving in Israel ( )

In the past, when I used to hear Netanyahu incessantly talking about Iran, ISIS or Hamas, I was sure that it was just part of his "intimidate and govern" tactic. Making the Israeli public live in constant fear and feel that Netanyahu is our protector and savior (while his achievements in dealing with terror actually point to the exact opposite).

Likud Video

After Likud releases new election video warning Israelis that a vote for the left would bring ISIS to their doorstep, former Shin Bet chief says PM released Sheikh Ahmed Yassin, leading to the rehabilitation of Hamas.

Today I realize that I was wrong. Even more than tactics, these statements authentically reflect the existential fear Prime Minister Netanyahu is living in. Even the best actor in the world wouldn't be able to fake such deep fear over such a long period of time. This insight concerns me much more.

One of the greatest ideas the Zionist Movement sought to fulfill, maybe even more than the actual establishment of a sovereign Jewish state, was liberating the Jewish people from a life of endless existential fear. There has not been an Israeli prime minister who caused so much damage in this context like Netanyahu.

In 1950, a moment after the painful War of Independence, Israel's first Prime Minister David Ben-Gurion announced a national program for free education for every boy and girl in Israel. He did so at that point in time because he saw Zionism as a hopeful look towards the future – no more living a ghetto-like life controlled by fear.

Netanyahu must be in a nostalgic period in his life, because in the past few days we seem to be seeing his 1995 version again. The inciting and unrestrained Netanyahu, whose desire to sit on the prime minister's throne justifies every means.

I know the Islamic terror organizations very well from my regular and reserve service. I also know the soldiers and commanders who work day and night to thwart their intentions and seize every opportunity to harm them. Based on this acquaintanceship, I can say responsibly that Hamas, Hezbollah, ISIS and similar organizations are a bitter enemy which we must target tirelessly. But they definitely do not pose an existential threat to the State of Israel.

On the other hand, the incitement of the old-new Netanyahu, the ghetto-like and frightened Netanyahu who translates his personal nightmares into instigation and a deep split among the people, is threatening our joint existence, and is much more dangerous.

Mr. Netanyahu, although you have called me an ISIS collaborator, I promise to participate in the war against the terror organizations also the next time I receive a call-up notice for reserve service. You and your panic are nothing more than a passing episode. The Jewish hope for a better future is 2,000 years old.