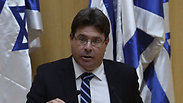 Deputy Minister ofir Akunis. Just be a human being
Photo: Gil Yohanan
In the current election campaign there is quite a lot of discourtesy and ugliness, from the infantile clips to the vulgar statements made by politicians and intellectuals. But my winner, the one who managed to beat them all with his vulgarity, insensitivity, lack of sophistication and wretchedness is Deputy Minister Ofir Akunis.

Akunis saw it fit, in an interview to Army Radio, to respond to former Mossad chief Meir Dagan's speech at the Rabin Square rally with the following words: "I feel sorry for Meir Dagan. You know, forget about the political level which we will soon talk about. When I read, on the personal level, that he personally thanks the prime minister for saving his life when he helped him undergo a certain operation, as a Jew who believes in gratitude, if someone had saved my life, I wouldn't think till my very last day of launching such a poisonous attack against him, not in public and not not in public."

Creating Diversions

Op-ed: Ad comparing dock workers to Hamas is just another way for Israel's ruling party to avoid dealing with state's fundamental problems.

I'm quoting Akunis not because his words are important. They're not. And not because what Akunis thinks is important. That's not important either. But in order to demonstrate the insensitivity, rudeness, and I dare say even craziness, that this election campaign is dragging us into.

Forget about the political level, Akunis. When I hear, on the personal level, the things coming out of your mouth, I think about the gap between them and the Jabotinsky pathos you have adopted, all this splendor which you believe is part of you. So don't be a Jew who believes in gratitude, Akunis. Just be a human being.

Even if we try really hard, we'll find it difficult to remember any achievements reached by Akunis during his political life. And if a person like that dares to mix between an illness and politics, between a human gesture which any person would offer another person and legitimate views of a man who decided to speak from his heart, out of sincere concern for the state he served all his adult life, a privileged man who feels an urgency to speak out – then where are we headed to?

Because if Dagan decided to speak out despite Prime Minister Benjamin Netanyahu's gesture, if he felt the responsibility to warn, with a lot of pain and tears in his eyes, despite his gratitude – his words should be taken very seriously. But when one's arguments are not good enough, when one feel the earth move under one's feet, one doesn't hesitate to strip off everything, even the little humanity we would expect such people to have.

I find it difficult to believe that the prime minister is behind these comments. I believe that even today, after Dagan's speech, the prime minister would make the same phone calls he made at the time to help save his life if he is asked to. It's just Akunis who went out of his way again to show the prime minister how effective he is in his help.

And Akunis is not the only one going out of his way. there are quite a few people who are willing to make a mockery of themselves and run from one television studio to another to justify and defend anything, as if there is no life after the elections.

It's hard to believe, but even former minister Benny Begin rushed to defend the prime minister on Sunday, as if he were another Yuval Steinitz, trying to kill the messenger. That same Begin, who expressed his shock at any option that Netanyahu had agreed to make concessions to the Palestinians, said only a few years ago that "Netanyahu is dividing Jerusalem and has given his consent to abandon parts of the homeland. Netanyahu has breached the voters' trust and deceived them." Guess who Netanyahu is deceiving this time.

So instead of defending the prime minister in retrospect, I would suggest that they watch him before things happen: For example, by making sure that ridiculous and destructive clips aren't aired. The prime minister is presenting himself in the Likud ads either as a babysitter or as a child who needs a babysitter, and it's unclear which of these roles he plays better.

And the worst thing is the ad which put an Israel Broadcasting Authority worker, a dock worker, a cellular company worker and a Hamas terrorist in the same group. Netanyahu can't even claim that he didn't know about it, because he appears in the ad himself. But he didn't even bother to apologize to all those who were offended by the ad, and we are talking about thousands of people.

That's what the Akunises are for.