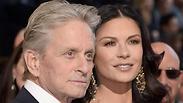 Douglas and Zeta-Jones
Photo: EPA
American actor Michael Douglas is expected to head back to Israel in June with his wife, Welsh actress Catherine Zeta-Jones, and their two children in order to receive the 2015 Genesis Prize, which has been billed "the Jewish Nobel Prize."

The prize will be awarded to Douglas in Jerusalem by the Israeli prime minister and Jewish Agency Chairman Natan Sharansky. The $1 million prize honors individuals who contribute to contemporary Jewish culture and aims to "serve as an inspiration to young Jews and others across the globe."

Bar Mitzvah Trip

Hollywood couple arrives in Israel to celebrate son's bar mitzvah. After touring Jerusalem's important sites, family spotted having lunch at posh Tel Aviv restaurant.

The members of the two committees which selected Douglas include Nobel Prize laureate Elie Wiesel, Knesset Speaker Yuli Edelstein and former Chief Rabbi of the United Kingdom Lord Jonathan Sacks.

The Genesis Award ceremony will be hosted for the second year in a row by American comedian and late-night host Jay Leno. Last year's recipient was former New York Mayor Michael Bloomberg.

Douglas, whose father, actor Kirk Douglas, is Jewish, has said he will donate his prize money to projects that promote inclusiveness in the Jewish community.

"Michael Douglas has chosen to invest the prize award into initiatives which will resonate with Jews like himself – those who come from parents of mixed heritage who wish to be part of the Jewish community," said Stan Polovets, co-founder, chairman, and CEO of the Genesis Prize Foundation.

This will be the Hollywood couple's second visit to Israel within a year. Their son, Dylan, celebrated his bar mitzvah at the Western Wall in Jerusalem in June 2014.

The Associated Press contributed to this report.