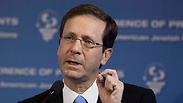 Isaac Herzog. Could he become Israel's next prime minister?
Photo: EPA
If we are to believe recent polls* and statements, there seems to be a real, albeit slim, chance the center-left will win Israel's election and oust Benjamin Netanyahu from Israeli leadership. For that scenario to play out, Israel's main political players, especially those from the center, will have to swallow their pride – but if they do it might be the biggest political surprise Israel has seen in decades.

Israel's election process is like a particularly vicious schoolyard – it combines both a popularity contest between individuals and competing cliques. It is not enough for any single party to win a relative majority of the popular vote for its leader to serve as Israel's prime minister. To secure the top spot, they must also be able to enlist the support of those who until just days before competed against them.

Leadership Difficulties

Op-ed: A quick survey of my run-of-the-mill, typical neighborhood shows that there is one prominent cause for the Likud's loss of support, and it is affecting Bennett and Lieberman too.

For Herzog to win, the centrist camp he hopes to lead must support him and not Netanyahu the day after the elections. Herzog's chances of being prime minister hinge as much on the votes his Zionist Union party gains as it does on the willingness of the centrist Yesh Atid and center-right Kulanu party to throw their electoral weight behind him.

Up until this Tuesday, that seemed unlikely. Herzog and Netanyahu's parties were tied in the polls, giving the right wing camp an easy and solid coalition; one that would be difficult for Lapid's Yesh Atid not to join as a 'fig-leaf' – a force of moderation, well-poised to rein in Netanyahu and his far-right allies and act as the left wing of a center-right government like the one currently in place. Lapid's voters won't be thrilled, but they won't be disappointed.

But now the situation has changed. Netanyahu and Herzog are no longer tied. Tuesday's polls by the Knesset's television channel (Israel's C-SPAN) and Channel 2 gave Herzog's Zionist Union a 3 to 4 point lead over Netanyahu. The gap was reaffirmed Wednesday in an Army Radio poll. Though the margin of error is huge, and there is no lack of polls claiming otherwise, if the Likud does end up getting 21 Knesset seats versus 25 or even 24 for the Zionist Union, the gap could turn out to be pivotal.

Lapid said he will not back Netanyahu for prime minister, and his poll numbers are soaring. "The chance I will support Netanyahu are almost slim to zero," Lapid said Wednesday, de facto committing himself to Herzog for the first time this election cycle. Though likely an election ploy to shore up support from centrist voters tired of Netanyahu but uncomfortable with Herzog or wary of Kahlon, it does give Herzog a temporary vote of confidence from a man poised to be Israel's kingmaker – again.

,"

While initial polls had the Joint Arab List polling in third, Lapid, who is the only candidate whose numbers have maintained a steady rise throughout, is now polling at 13-14, either tied with or one seat above the joint Arab ticket, and more importantly, above Netanyahu's right wing allies in Bayit Yehudi – shifting the tides from the center-right to the center-left.

Moreover, Kulanu's Moshe Kahlon has refused to commit to either Netanyahu or Herzog, indicating the assumption that, as a former Likud member, he will support his former party boss might be misleading.

If the polls are right and Lapid keeps his word – two very big ifs – Herzog could form the following coalition:

Zionist Union - 25

Yesh Atid - 14

Kulanu - 8

Meretz - 4

Shas - 7

United Torah Judaism - 6

Though narrow, carrying only 64 seats, such a coalition could function with silent support of at least some of the United Arab List's expected 13 seats.

If Lapid is willing to sit in government with Shas and United Torah Judaism – ultra-Orthodox parties which have locked horns with Lapid countless times over everything from his universal enlistment bill to the welfare budget – then a Herzog victory is possible.

Moreover, if Lapid and Kahlon will be willing to sit with the Arab list, then there will be no need for Shas or United Torah Judaism.

Additional combinations exist, for example bringing in Lieberman's Yisrael Beytenu (5) instead of United Torah Judaism – sitting with just Deri might be easier for Lapid to swallow, though Meretz might have a tough time sitting with Lieberman – but this would probably not be enough to allow Herzog to retain control of the government.

Of course, if Meretz fails to cross the election threshold – as is a possible with it polling at 4 with a 4 percent margin of error – Netanyahu's win is ensured. But for now, with days to go, it is no longer so certain – he's even said so himself.

*Israel polls have a history of being inaccurate. Moreover they have a 4 percent margin of error, and with coalitions hinging on single Knesset seats, such a large swing makes it almost impossible to speculate in an educated manner. The article is only an attempt to highlight the scenario under which Herzog can win, not the likelihood he will win.