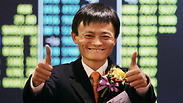 Alibaba founder Jack Ma
Photo: AP
Chinese e-commerce giant the Alibaba Group is entering into a strategic partnership with one of Israel's leading venture capital firms, Jerusalem Venture Partners. The Chinese company is set to invest tens of millions of dollars in JVP.
The move marks the first time Alibaba has invested in an Israeli VC firm and the second time it has invested in Israeli hi-tech: In January, Alibaba invested approximately $5 million in Visualead, a QR code beautifying company.
JVP will use the money from Alibaba and other investors to make future investments in Israeli startups.
Related articles:
Last year, Alibaba completed a huge stock offering on the New York Stock Exchange and is trading currently at a value of around $213 billion.
Several Alibaba delegations visited Israel recently to meet with companies and examine investment opportunities, and 20 senior officials from the Chinese company are currently in the country.
They have met with high-tech and startup executives, visited the cyber park in Be'er Sheva and are expected to attend the Cybertech 2015 conference that opens on Wednesday in Tel Aviv.
Founded by Erel Margalit, now a member of Knesset for Labor, JVP is one of the most prominent venture capital funds in Israel.
Several of the companies in which it has invested have recorded large exits – for example, CyberArk, which went public, and CyActive, which was purchased recently by PayPal.