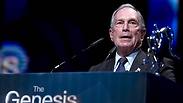 Michael Bloomberg. 'Common values'
Photo: AFP
Former New York Mayor Michael Bloomberg on Wednesday announced the nine recipients of the Genesis Generation Challenge, a competition supporting innovative projects guided by Jewish values to address the world's pressing issues.

Each team selected as a winner of the Genesis Generation Challenge will be awarded $100,000 to implement their initiatives and will be matched with a mentor to help develop the project.

Recognition

Jewish American actor to be recognized in Jerusalem for his work as UN Messenger of Peace and commitment to Jewish heritage.

Winning project concepts focus on subjects such as public health, education, cross-cultural exchanges to spur understanding and tolerance, poverty alleviation, and using data to drive impact in social good enterprises.

Congratulating the nine recipients at a press conference at the Bloomberg Philanthropies headquarters in New York, Bloomberg was joined by a renowned group of individuals who are well known for their professional accomplishments and dedication to the Jewish community and the State of Israel – Nobel Peace Prize Laureate, Elie Wiesel; actor and peace activist, Michael Douglas; Co-Founder and Chairman of the Genesis Prize Foundation, Stan Polovets; Founding Partner of WeWork, Adam Neumann; and via recorded message from Israel, human rights activist and author, Jewish Agency Chairman Natan Sharansky.

The Genesis Generation Challenge is a unique competition that arose from the Genesis Prize, which celebrates the enormous contribution of the Jewish people throughout history to the development of human civilization.

In May of 2014, Bloomberg was named the inaugural Genesis Prize Laureate, which entailed an award of a $1 million prize. Rather than accept the $1 million, the funds were turned into the Genesis Generation Challenge, a competition he created to fuel ideas that would measurably better people's lives.

"The people of Israel and America share a bond that can't be broken by political disagreements, because it is based on our common values: Free elections and free speech. Those values remain under attack in many parts of the world, including in the Middle East, and one way we can confront them is through partnerships – in business and philanthropy – that re-affirm our common commitment to those values," said Bloomberg. "The Genesis Prize and the Genesis Generation Challenge helped do that – congratulations to all the winners."

"The idea of the Genesis Prize, from the very beginning, was to inspire young people to be proud of their connection to the Jewish people and the Jewish State, and to use this Prize to make our world a better place. Today we can see the first results of this initiative," said Sharansky.

Genesis Generation Challenge participants were invited to meet other entrants through online forums on the Genesis Generation website to help collaborate on submission of ideas and form teams. Each team is led by a designated team leader aged 20-36, with additional team members being 18 or older.

The teams were required to submit an application that included a project plan and budget, details on the intended beneficiaries, and a description of the necessary resources to carry out the project.

The entries were judged by a panel of global business leaders, philanthropists and social entrepreneurs including Director of Global Cities Inc., Marjorie B. Tiven; President of American Jewish World Service, Ruth Messinger; CEO of Sony Entertainment, Michael Lynton; prominent American attorney and mediator, Kenneth Feinberg; and Deputy CEO of the Genesis Prize Foundation, Jill W. Smith.

"The Genesis Prize, which celebrates individuals who inspire others through their dedication, is a unique opportunity for these nine young teams to expand their efforts in bettering the world around them," said Stan Polovets, Co-Founder and Chairman of the Genesis Prize Foundation. "We are very grateful to Michael Bloomberg for establishing the Genesis Generation Challenge and creating a powerful precedent for future Genesis Prize laureates."
Genesis Generation Challenge recipients
Build Israel and Palestine (BIP)
BIP creates a platform for Jewish and Muslim Millennials to commit their time and financial resources, and partner on development projects in Israel and the Palestinian Territories. This team has partnered with the Arava Institute in Israel to support a project that converts sewage into useable water in the Palestinian territories. The technology has tested successfully in four households and the project will scale the technology to a village. BIP is addressing the need for proper sewage management in Palestinian communities and preventing further flow of untreated sewage into Israel.
Building Up (Canada)
Building Up is a non-profit social enterprise that installs water and energy efficient retrofits in residential buildings - primarily affordable housing complexes - while training and employing people with barriers to employment to carry out that work. Building Up's primary goal is to provide trades-based training and employment to marginalized community members in Toronto, Canada. As an additional benefit, the organization is able to reduce inefficient consumption of natural resources, reduce the operating costs for local affordable housing providers, and improve the conditions of the city's public housing stock.
eNable 3D Printed Prosthetic
US-based eNable provides free 3D-printed prosthetics through an online volunteer community, open source designs, and good will. Prosthetics have life changing potential that the project team seeks to extend to the developing world, starting with an area of massive need. Less than 1,000 miles from Miami Beach, Haiti is the poorest country in the Western Hemisphere and home to thousands of amputees after the 2010 earthquake. Many continue to lack upper limb prosthetics; to meet this need, eNable will collaborate with clinicians, entrepreneurs, and Jewish communal service partners to host "makeathons" and establish a self-sustaining 3D prosthetics printing enterprise in Haiti.
LAVAN (Israel)
LAVAN will build a US community of angel investors and advisors for Israeli businesses tackling global social and environmental challenges. LAVAN will do this in a way that meaningfully engages tomorrow's leaders and educates them on impact investments' potential to strengthen Israel and Jewish values. In the process, LAVAN intends to educate the broader Jewish community on the power of impact investment, highlight Israel and the Jewish world's role within the global impact investment community, and develop a long-term track record of financial and social return sufficient to catalyze Jewish institutional capital to enter the sector.
Prize4Life (Israel)
Prize4Life is an existing non-profit organization in Israel looking to develop an app that will help monitor ALS disease markers. This project aims to run a global competition to leverage crowdsourcing as a way to develop an app that would allow for patient monitoring with significantly increased regularity (as opposed to isolating it to doctor's visits). Developing a cure for ALS is extremely challenging given the low incidence of the disease and short life expectancy after diagnosis.
Sanergy (Kenya)
Sanergy aims to scale a sanitation model implemented in Nairobi, Kenya, into the slum of Mathare. Sanergy has successfully developed this fast-growing sanitation social enterprise comprised of three elements: the building of a network of Fresh Life Operators - local residents who purchase and operate hygienic sanitation facilities as a small business, the regular collection of waste and its removal from the community, and treatment of the waste, converting it into valuable byproducts such as organic fertilizer.
Sesame (Israel)
Sesame is developing a smartphone that can be operated by people without use of their hands. The project is already underway and this grant funding will support the effort to complete the technology and test it, bring it to market, and create partnerships with organizations and companies that can help market it and distribute it. Sesame's goal is to sell 3,000 devices in 2015. Then, through contacts and partnerships with distributors and mobile carriers, Sesame expects to sell up to 15,000 units a year. This product revolutionizes communication for quadriplegics and others without the use of their hands, enabling them to join the smartphone revolution.
Spark (Burundi)
Spark reaches out to rural poor communities and assists them in the design, implementation and management of their own social impact projects such as schools, social enterprises and health centers. Spark will launch a regionally consolidated effort to roll out its unique facilitated micro-granting model across eight neighboring communities in Southern Burundi, a region facing extreme poverty and emerging from violence. This new program will run for 18 months in Vugizo Commune, where Spark currently operates. This will be the first time Spark uses the regional consolidation approach versus working with communities that do not know one another. Spark will train two facilitators through its in-country Facilitator Fellowship program, facilitate a multi-tiered community funding process, run a program evaluation, and publish impact results of the regional approach.
Vera Solutions (United States, India)
Vera Solutions is establishing a competitive Fellowship program equipping passionate young professionals with skills to drive technology-based innovations in the social sector. In 2015-2016, at least eight Fellows will participate in the program, undergoing training in the United States and India and working with social impact organizations to help improve data systems, design new solutions, create stronger feedback loops, and build the capacity of staff and volunteers to use data effectively. The model not only provides young leaders with a transformative learning experience, but also helps organizations streamline their systems and build in-house capacity to utilize data for improved decision-making.