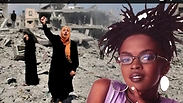 Campaign against Lauryn Hill's Israel concert
Lauryn Hill cancels Israel show following BDS pressure
American R&B and soul singer cites inability to perform in both Tel Aviv and Ramallah. Last week, pro-Palestinian activists posted video edited to the sounds of Hill's performance of 'Killing me Softly,' showing her alongside IDF soldiers in the territories.
Just three days before Lauryn Hill was set to perform in Israel, the American R&B, soul and hip hop singer has canceled her show.
On her website, Hill said that she made the decision when she realized it would be impossible to perform in Ramallah, along with her show set in Rishon Lezion.
Boycott Defied
The British pop star was at his best when performing his own hits - he should stick to this winning formula, instead of griping publicly about the audience.
"When deciding to play the region, my intention was to perform in both Tel Aviv and Ramallah. Setting up a performance in the Palestinian Territory, at the same time as our show in Israel, proved to be a challenge," she wrote on Facebook. "I've wanted very much to bring our live performance to this part of the world, but also to be a presence supporting justice and peace.
"It is very important to me that my presence or message not be misconstrued, or a source of alienation to either my Israeli or my Palestinian fans. For this reason, we have decided to cancel the upcoming performance in Israel, and seek a different strategy to bring my music to ALL of my fans in the region. May healing, equanimity, and the openness necessary for lasting resolution and reconciliation come to this region and its people."
The Boycott, Divestment and Sanctions (BDS) Movement had been urging Hill to boycott Israel for the past month. Last week, pro-Palestinian activists posted a video edited to the sounds Hill's performance of "Killing me Softly" as part of her former band The Fugees, which shows her alongside IDF soldiers in the territories and compares Israel to an apartheid state.
"The presence of artists is routinely used by Israel to legitimize its policies and maintain its reputation as a normal member of the international community," the US Campaign to End the Israeli Occupation said in an action alert calling on people to press Hill to help the Palestinians by calling off her concert in Israel.
The campaign, which includes an online petition Twitter activity under the hashtag #KillingMeSoftly, says that "performing in Israel today is the equivalent of performing in Sun City, South Africa during the apartheid era."
In recent years, international musicians have been under a lot of pressure by pro-Palestinian organizations and artists such as former Pink Floyd frontman Roger Waters to avoid performing in Israel in protest of its activity in Gaza.
While some musicians like Robbie Williams and Alicia Keys have chosen to defy the calls, others have given into the threat. Elvis Costello, Sinead O'Connor, Gil Scott-Heron, Cat Power and The Pixies in 2010 are only some of the artists who have cancelled planned performances in Israel following heavy pressure.