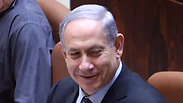 Prime Minister Netanyahu
Photo: Gil Yohanan
There was a 55 percent rise in expenditure paid by tax-payers at Prime Minister Benjamin Netanyahu's private home in Caesarea, a report issued Thursday by the Prime Minister's Residence showed.

Spending at the Netanyahu family's Caesarea home reached NIS 284,000 in tax-payers' money in 2014, compared to NIS 183,000 in 2013.

According to the report, despite the rise in expenditure at the private residence, the overall budget used by both the Caesarea home and the official residence in Jerusalem saw a 19 percent drop - from a total of NIS 2.444 million in 2013 to NIS 1.965 million in 2014.

The PMO noted the expenditure reported for 2014 is not final, and is expected to drop in some NIS 10,000 as a result of insurance refunds.

The report also shows that the annual expenditure for 2014 is the lowest in the past five years.

Related stories:

For example, cash expenditure was 35 percent lower in 2014 than the approved budget, and expenses for maintenance were reduced in some 31 percent from NIS 808,000 in 2013 to NIS 551,000 in 2014. Management expenses were reduced in 39 percent, and cleaning, housekeeping and manpower expenses were reduced in 34 percent.

The PMO also released Netanyahu's annual medical report, written by the prime minister's personal doctor and family friend, Dr. Zvi Herman Berkowitz.

"Prime Minister Benjamin Netanyahu's periodic routine medical tests showed completely normal blood tests. The prime minister's blood pressure is normal (120/80), with the help of minor medication (as reported in previous years as well). The prime minister trains at the gym several times a week (walking and weightlifting) and is in good physical shape," the doctor wrote.

Dr. Berkowitz determined the prime minister is in very good health.