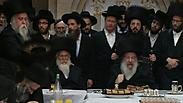 Not a single eye remained dry as 67-year-old father circumcised his firstborn son
Photo: Israel Cohen, Kikar Hashabat
Dozens of family and community members, friends, acquaintances and a few curious people gathered Monday for the circumcision ceremony of Shimon Chaim Shachar, the son of 65-year-old Haya, who is probably the oldest woman to ever give birth in Israel.

The mother had hoped and prayed for an offspring for 46 years. On Monday, when her husband Shmuel circumcised his firstborn child and announced his name, not a single eye remained dry.

The brit milah ceremony was held at the Torah study hall of the Nadvorna Hasidic movement, which the Shachar family is affiliated with, in the central Israeli city of Bnei Brak. The rebbe, the Hasidic movement's leader, served as the child's godfather. His father, Rabbi Yaakov Issachar Ber Rosenbaum, the previous rebbe, had promised the couple before he died that they would be blessed with a child – and the family and community members attribute the great miracle to him.

At the late rebbe's request, the newborn was named after Rabbi Shimon Bar Yochai, a 2nd-century Tannaitic sage in ancient Israel.

On Friday evening, the family invited relatives and friends to the "Shalom Zachar" gathering, which takes place in Ashkenazi Jewish circles on the first Friday night after a baby boy is born. According to the Behadrei Haredim website, the father broke into tears during the event, saying: "I have just realized that I will have someone to call me father."

Shmuel and Haya were married when he was 21 years old and she was 19, but failed to have any children since then. Their fertile years were over, friends their age were already marrying off their children and grandchildren and even welcoming great grandchildren – but the couple would not despair. They kept dreaming, praying and trying again and again with the help of fertility treatments, while drawing a lot of strength from the rabbi's promise about four years ago.

Haya gave birth last week at the Meir Medical Center in Kfar Saba. Members of the Nadvorna Hasidic movement were very excited upon receiving the happy news, but did not seem very surprised, explaining that "the rebbe promised them before he died that they would be blessed with a child – and it happened."