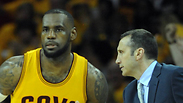 LeBron James and David Blatt
Photo: Reuters
Eastern Conference champions Cleveland Cavaliers are expected to announce when they plan to visit Israel at the end of their NBA final series against the Golden State Warriors. The team includes All-Star player LeBron James and Israeli-American coach David Blatt.

The Cavs' negotiations with the Maccabi Tel Aviv basketball club are in their initial stages. Maccabi would like to visit to take place in October, at the beginning of the 2015-16 season, but that period may be unsuitable for the Americans.

In addition, the Israeli team is scheduled to play two exhibition games that month in Chicago and in New York against EA7 Emporio Armani Milan.

The Cavs would first of all like to complete the final series and only then discuss their future plans. Maccabi Tel Aviv's goal is to bring the Cavs to Israel together with LeBron and Blatt, assuming the two will still be part of the team when the visit takes place.

The American team's arrival will be a return visit following Maccabi Tel Aviv's pre-season US tour in October 2014, when the Cavaliers crushed Maccabi 107-80 in Blatt's debut game in Cleveland.

If the visit does take place, a Cavs game against Maccabi at Tel Aviv's Menorah Mivtachim Arena will likely be an unusual experience for all basketball lovers.